The Shifting Landscape of Dentistry: A Decade of Change Beckons
Futurist Jack Uldrich will address the top technological trends that will influence the field of dentistry and the insurers who cover it, in the next decade at the OpTech Summit in Seattle on July 19
Press Release
-
updated: Jul 17, 2017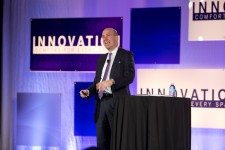 SEATTLE, Wash., July 17, 2017 (Newswire.com) - Like all other industries, dentistry and dental insurance are facing radical technological change. Futurist Jack Uldrich will address many of those changes in his keynote speech at the 2017 OpTech Summit held in Seattle, Washington on July 19.
Uldrich says, "If you want to stay on the right side of the future, the first thing to do is to acknowledge that the future will be different, perhaps radically different than the present." 
A CEO from a le​ading dental provider, headquartered in Minneapolis, Minnesota, says, "If we are smart as an industry, we will learn from those industries that have undergone a similar transformation, and take advantage of what they did correctly, then I think this industry has unlimited opportunities."
Uldrich fully concurs and his presentation The Big AHA: How to Future Proof the Dental Health Care Business will focus on the top tech trends that are affecting industries across the board including Big Data, Artificial Intelligence, 3D Printing, Cyber Security, Blockchain, and cryptocurrency, among others.
"Artificial Intelligence (AI) is like the Industrial Revolution on steroids. It is poised to transform virtually every industry on a scale that will leave many people breathless. And dentistry is no exception," says Uldrich.
AI will, in particular, aid in things such as patient scheduling. And nanotechnology and digital technologies are already affecting the business by allowing dentists to create crowns and veneers in office rather than sending them out to other labs.
Each of these technologies provides a higher level of self-sufficiency and will likely transform the industry over the next decade. With that comes greater responsibility. Thus, Uldrich's concept of The Big AHA (Awareness, Humility, and Action) will also need to be employed.
"Leaders in the dental insurance industry in particular need to be aware that the landscape is shifting. And their thinking needs to change with it — meaning they must unlearn the linear thought process and to expand to exponential thinking.
The Big AHA is about embracing humility — enough to know that what worked well yesterday might not today. And about the willingness to take risks, even if all of the information isn't perfect."
Continuing, Uldrich says, "It is not enough to deeply understand how one technology works. You have to understand how multiple technologies will converge to spin off to create new opportunities."
Uldrich's clients in the insurance and healthcare sector include Blue Cross Blue Shield, PIMA (Professional Insurance Marketing Association), Fireman's Fund Insurance companies, the Healthcare Information Management Systems Society, American Nurses Association, Fresenius, Michigan Health and Hospital Association, Vynamic, California Nurse Leaders Association, and The Vision Council Executive Summit.
He speaks worldwide to a variety of organizations, and he will address the Kentucky Chamber of Commerce on July 20, and the Missouri Department of Education on July 30.
Parties interested in learning more about Jack Uldrich, his books, his daily blog or his speaking availability are encouraged to visit his website or to contact Amy Tomczyk at amy@jackuldrich.com.
Source: Jack Uldrich & The School of Unlearning
Share:
---
Categories: Sciences, Healthcare, Healthcare and Medical News, Healthcare Insurance, Dentistry
Tags: Dental Health, dental technology, Dentistry, keynote, OpTech Summit, tech trends
---