The Sacred Revival: Re-Defining What It Means to Be Human in New Philosophy Title
Press Release
-
updated: Nov 15, 2017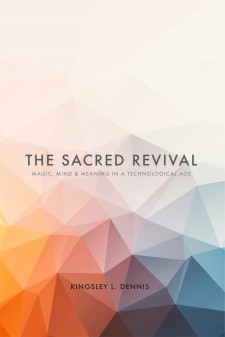 New York, New York, November 15, 2017 (Newswire.com) - SelectBooks, Inc. is proud to announce the release of a new title, The Sacred Revival: Magic, Mind, and Meaning in a Technological Age by Kingsley L. Dennis (October 2017; ISBN: 978-1-59079-433-3). The Sacred Revival is an ambitious philosophical examination of the critical juncture at which humankind now stands in its development. This examination encompasses such seemingly diverse interrelationships as magic, religion, science, and technology to provide a structure for a global understanding of where we are going as a species.
Dennis refers to the "sacred" as something that is more intuited than actually defined in concrete terms. In our quest for knowledge as a means to set order to the world around us and effect "progress," the sacred represents an aspect of reality which stands outside of traditional notions of reason and a world whose parameters are determined by empirical methods. He speaks of the sacred as an enchanted realm that appeals to our senses and attracts us by its "communal mystery." And it is an alienation from this concept of mystery which has atrophied in our human experience and necessitates a revival of what we consider sacred. As an alternate explanation, Dennis quotes the British anthropologist Gregory Bateson, "The sacred (whatever that means) is surely related (somehow) to the beautiful (whatever that means). And if we could say how they are related, we could perhaps say what the words mean." In this way Dennis agrees with Bateson that the sacred is perhaps best understood by how it is perceived as a mysterious thing of wonder and beauty difficult to express in words.
Dennis also believes our hyper-technological existence both prompts and facilitates a trend toward the rediscovery of this sacred awareness. Yet by "technology," the book refers to both those extensions of human society that reach out to connect us with the external world as well as the "technologies of the soul," which allow us to connect with an equally important inner world.
Characteristics of the sacred revival include the rise of feminine energies, the interior search and gaze, the healing of life on the planet, and an emerging symbiotic ecosystem as well as our drive toward planetary consciousness, cohesion, and coherence. One of our greatest needs is for a connection with the transcendent. The old worldview, with its linear, industrial mind, has been crumbling for some time now, while the new worldview is struggling to be birthed and articulated.
The Sacred Revival describes how the modern mind is reenchanting the world as it recognizes the major potential for growth and exploration in humanity. We are now in a planetary movement—toward new scientific discoveries in our exploration of our consciousness and the cosmos, as well as the merging of digital worlds into material reality.
Kingsley L. Dennis, PhD, is a sociologist, researcher, and writer whose publications include New Consciousness for a New World (2011) and The Struggle for Your Mind: Conscious Evolution & The Battle to Control How We Think (2012). He is also well-known for his frequent collaborations with the highly esteemed philosopher and systems theorist, Ervin Laszlo. Dennis co-authored a book with Laszlo called Dawn of the Akashic Age, and he currently serves as the Director of Publications at the Laszlo Institute of New Paradigm Research.
Laszlo praises The Sacred Revival, calling it "Essential reading for all who are part of the current global awakening and wish to promote it with heart and soul . . ."
James O'Dea, Former President of the Institute of Noetic Sciences and celebrated author, activist, and mystic says, "The Sacred Revival is audacious. Yet Kingsley Dennis meets his own remarkable challenge in conjuring a coherent vision out of the seemingly chaotic mishmash of ideas and trends that beget mass confusion. The result is both erudite and magical."
The Sacred Revival is an inspiring, thought-provoking, and forward-thinking examination of social, cultural, and personal development that is an essential part of the newly unfolding era.
###
Kingsley L. Dennis, PhD, is a sociologist, researcher, and writer. He previously worked in the Sociology Department at Lancaster University, UK. Kingsley is the author of numerous articles on social futures, technology, new media communications, global affairs, and conscious evolution. He is the coauthor (with Duane Elgin) of the study "New Media for a New Future: The Emerging Digital Landscape for a Planetary Society" produced as part of the Fuji Declaration for The Goi Peace Foundation in collaboration with the renowned global think tank the Club of Budapest. He currently serves as Director of Publications for the Laszlo Institute of New Paradigm Research.
Source: SelectBooks, Inc.
Share:
---
Categories: Books, Philosophy, Arts and Entertainment
Tags: akashic field, consciousness, Ervin Laszlo, existence, humanity, intergral theory, magic, new age, philosophy, religion, science, technology
---