The Packaging Company Launches New Custom Branded Boxes Program
Press Release
•
updated: Feb 7, 2020
Their latest innovative offering joins an already comprehensive suite of easy-to-use online custom packaging design tools in their Custom Shop.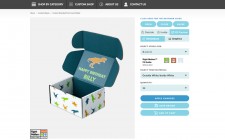 Toronto, ON, February 7, 2020 (Newswire.com) - ​The Packaging Company, an award-winning online retailer of stock and custom short-run packaging solutions, has launched their newest custom packaging offering: custom branded boxes.
Custom branded boxes are the perfect way for businesses, large and small, to create branded shipping boxes that stand out in today's overcrowded delivery services. Designed entirely online with an easy-to-use packaging designer tool, they allow businesses an impressive level of packaging customization without the need for a designer's skillset or access to prohibitively expensive design programs.
With just a few clicks, users become their own packaging designers, choosing from three popular box styles, four board material combinations and several popular sizing options. Both the inside and outside of custom branded boxes can be fully customized using color choices, text placement and uploaded artwork.
In addition to the expected standard toolset, The Packaging Company's custom branded boxes designer includes several additional options that allow for the fine-tuning of a design. The Background Artwork function allows for pre-designed artwork to be locked in place. The Panel Color tool can assign specific colors to every face (or panel) of a box, letting users create brand- or theme-appropriate color schemes. And the unique Stock Artwork gallery includes an array of ready-made graphics that can be placed and sized as users see fit.
At any time during the design process, users can examine their boxes in a fully rendered 360-degree preview. Viewable from any angle, it accurately depicts how all design choices will appear on the user's chosen box style and board materials, including the effects of lighting and the appearance of fluting lines. With the click of a button, boxes can be folded and unfolded in a real-time animation, simulating both the unboxing experience and providing visual assembly instructions.
This focus on fine-tuning specific details and an accurate 3D preview are just a few ways the custom branded boxes program sets itself apart from less experience-centric online box designers. It has also been fully integrated with the Right Mailers™ packaging evaluation system.
"Making high-quality, professional-looking custom packaging available to businesses of all sizes is something we've been committed to since day one," said Olivia Pietersen, E-Commerce Business Manager of The Packaging Company. "Custom branded boxes are the culmination of that commitment, putting a level of customization and branding power into the hands of customers that they might not have access to otherwise."
Custom branded boxes join The Packaging Company's already comprehensive lineup of custom packaging options, including packing tape, tissue paper, poly mailers and printed labels. Each custom offering features its own easy-to-use online packaging designer tool, allowing customers to create an entire suite of custom packaging for their business—also known as the all-encompassing and highly coveted unboxing experience.
Source: The Packaging Company