The New Book From Dr. Larry E. Banta 'Effective Ministry to Orphans' is a Guide to Solving Problems That Arise in the Lives of Orphaned and Adopted Children
The recent publication "Effective Ministry to Orphans" by Dr. Larry E. Banta, published by Covenant Books, is a manual that shows how to effectively minister to orphans and adopted children to achieve a good coexistence.
Press Release
-
updated: Apr 16, 2019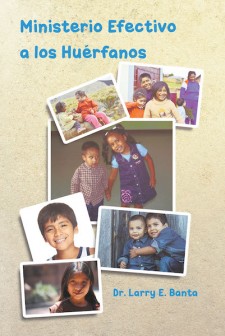 CALDWELL, Idaho, April 16, 2019 (Newswire.com) - Dr. Larry E. Banta, born and raised in Ohio on a farm near Cincinnati, is a certified psychiatrist who has provided specialized training and consultations in many places around the United States and the world for the past 30 years. He is a widower and lives in Caldwell, Idaho. He currently serves as medical director of Child Help International Inc. and also practices in a psychiatric inpatient and outpatient program based in Idaho. He is in charge of psychiatric and neuro-psychiatric care for all ages. He travels several times a year to different places to train people when they ask for it.
Dr. Banta shares, "When children can not live with the parents who spawned them, they inevitably face certain challenges that may hinder them from doing well. This much-needed manual offers clinical guidelines, from a Christian perspective, to help adults working with such groups, from the adoptive parents to the caregivers and the management of those care centers. There is no more important call than loving and nurturing a child in need. Discover how to deal with the common problems you encounter with orphaned and adopted children; create a lifelong structure in your home."
Published by Covenant Books of Murrells Inlet, South Carolina, Dr. Larry E. Banta's new book reflects important guidelines that can help you understand these children and ultimately help them in their daily lives, all under a Christian perspective of life.
This book also allows readers to understand how difficult the lives of these children or adolescents have been and how to help them to have a full life in God.
Readers can purchase "Effective Ministry to Orphans" in bookstores anywhere or buy it online through Apple iTunes, Amazon or Barnes & Noble platforms.
Covenant Books is a Christian, international publishing house owned and operated from its headquarters, which is located in Murrells Inlet, South Carolina. Covenant Books specializes in all genres that may be of interest to the Christian community.
For additional information or any questions, you can contact Covenant Books through the following number: 843-507-8373.
Source: Covenant Books
---
Categories: Books
Tags: "Effective Ministry to Orphans", Covenant Books, Dr. Larry E. Banta
---