The Most Mesmerizing Desktop Jellyfish Tank Launches on Kickstarter
The JellyTank is a beautiful desktop jellyfish tank that is both affordable and low-maintenance recently launched on Kickstarter.
Press Release
-
updated: Feb 8, 2017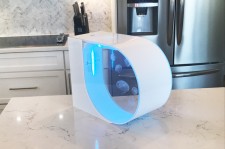 Sarasota, FL, February 8, 2017 (Newswire.com) - Brock and Blake Gratton of Sarasota, FL are embarking on the launch of a product they've designed and developed called the JellyTank. The JellyTank was initially designed to create the most suitable environment to keep Jellyfish happy and healthy, with the major focus on providing an affordable and low-maintenance aquarium for owners.  It was also designed to help people take a break from their stressful lives and enjoy the tranquility and mesmerizing display of jellyfish.
"Everyone has their own daily stresses to deal with, and we have so many responsibilities at home and at work, that stress has become an unfortunate way of life.  We saw the beauty and tranquility in the way jellyfish move and that led us to develop the JellyTank," says Blake Gratton.
The Jellyfish Tank brandishes a stunning, modern design built on a stellar foundation of high-end functionality and structure. With its clean lines and trailblazing appearance, the JellyTank poses a great presence in any environment. Besides, the tank's design focuses on providing an excellent free-swimming zone for jellyfish like the ocean's tides.
"The JellyTank solves the common problems other tanks in the industry struggle with," Brock Gratton explains. "We developed it in a way to keep the Jellyfish away from harm by integrating a custom designed spray bar to keep them away from the grates which in many tanks are a deathtrap. This allowed us to integrate both mechanical and biological filtration."
Some key features of the JellyTank include:
A proprietary aquarium and flow bar design based on form and function. It is also backed by science with the aid of a nationally-accredited aquarium and research laboratory.
A remote LED so you can switch between different LED colors and brightness to match changes in mood and for easy lighting.
A pump-driven True laminar water flow that is similar in operation to the natural environment of the jellyfish.
Made of premium, high-grade aquarium acrylic
Available in premium black or ultra-white.
A robust built-in mechanical and biological filtration system that ensures optimal water quality and easy accessibility for maintenance and cleaning.
Our oceans are a precious resource. At JellyTank, we believe in true sustainable aquaculture. We are finalizing a partnership with a nationally accredited aquarium and marine research laboratory to develop the most effective protocols and standards of practice to deliver the world's healthiest sustainable source of Jellyfish. The proposed Aquaculture Program will be supervised, staffed and managed by the finest jellyfish aquaculture specialists directly on the aquarium property. Beyond that, Jellyfish of all sizes are available all year round.
You Jelly Inc. dba JellyTank launched the JellyTank through a Kickstarter Campaign on February 7, 2017 and as of right now they've already have over $10,000. Please visit jellytank.com for the opportunity to pledge, learn about upcoming contests and much more.
About You Jelly Inc.
You Jelly Inc. was established in 2016. They later developed the JellyTank, the ultimate jellyfish aquarium that solves the common problems that the other tanks struggle with and one where jellyfish could thrive while keeping it affordable for owners and requiring low maintenance.
About Us
Blake and I are both successful entrepreneurs with a strong passion for business and family. We graduated from the Florida State University in 2004 with majors in Economics and later became mortgage loan officers for four years until the real estate market came crashing down. We've always had a yearning for entrepreneurship. We even had a few ecommerce-based side businesses that were slow-moving in growth. However, everything took a turn in 2007/8 when we created Xplode Marketing. This platform allowed us to continue on our journey to building a brand and achieving success. Over the last nine years, we have assisted hundreds of clients in growing their business and developing their startups. We've also had a ton of companies including SAAS-based businesses and some product-based businesses.
Source: JellyTank
Share:
---
Categories: Entrepreneurship, Decorating, Pets, Business News
Tags: jellyfish, kickstarter, pet, startup
---