The Latest Patented Eye Mask With Better Coverage
Press Release
•
updated: Jun 19, 2020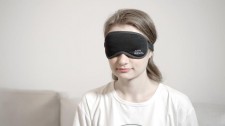 TOKYO, June 19, 2020 (Newswire.com) - A new sleeping eye mask is finally available. A.A.TH x REKAL just launched their project on Kickstarter to collect funds from supporters.
A.A.TH's fiber technology with a 100% dark blindfold environment provides better quality. Long hours of blue light exposure by using the computer or the phone could lead to insufficient sleep and discomfort of the eyes. A.A.TH x REKAL Eye Mask helps users get more efficient and sufficient rest during power naps by providing better blackout coverage.
The A.A.TH material creates some warmness and accelerates the blood circulation around the eyes and elevates power naps to the next level so that one can wake up with a fresh mind to continue the day.
Insomnia makes it difficult to fall asleep. People become even more sensitive to light when taking a nap. When people can't get enough sleep in a short time, isn't it distressing? A.A.TH x REKAL's 100% Cover​​ Eye Mask will set users immediately in a dark environment, helping them comfortably fall asleep.
For people catching up on sleep due to a busy lifestyle, the A.A.TH x REKAL Sleeping Mask is the ideal tool they are looking for. While enjoying the comfort of bed, people get to enjoy comfort on their eyes, as the sleeping mask helps to block out all presence of light and provide the most comfortable sleep they need on off days.
The A.A.TH REKAL Eye Mask provides ultimate coverage on the entire eye area. This mask also highly coincides with the facial structure so that the eye mask stays on well and prevents all possible leakage of light. The full coverage allows people to get total blackout and sufficient rest as needed.
A.A.TH REKAL Eye Mask is now live on Kickstarter; click here to learn more.
Source: Rekal x A.A.TH