The Homeless in Florida Defy All Odds
It has been a long and rugged road, but the homeless proved that they could help each other since 2008. They have helped pioneer many new methods that are working.The numbers in rural America continue to increase.The Mission in Citrus has helped lead the way in innovative projects that work to reduce the numbers.They have just reached a 73% employment rate , which is unheard of for shelters in the US. After deducting children in the women's house, the rate is 90%. They have reason to be proud.
Press Release
-
May 25, 2016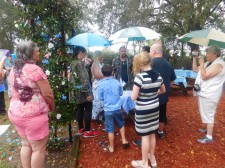 Crystal River, Florida, May 25, 2016 (Newswire.com) - ​Many said that it could not be done, but they have shown that it could be done, when given the proper resources. They have come a long way in the past eight years, from over 60 tents to the three shelters that are operated today. Including a Veteran's shelter that opened in 2010. There were no high paid staff or administration expenses, other than the office supplies, leases, and other bills that were needed to operate. They have received awards from Great Nonprofits, the Guide Star Seal for transparency and many others over the past three years, and have more positive reviews than many other charities around the United States.
Thousands have been helped by learning to stretch a dime into a dollar. The foundation for the Mission in Citrus and the rules and regulations that they still follow, were set up by their homeless founder and six other homeless people. It has been a long struggle, but their faith in God helped them to make it through many tough times. While they live by faith, no one is forced to pray or go to church. Most of them do on their own. Veteran's fought for that right.The Mission in Citrus Inc. was founded in 2008, after their founder became homeless himself, and found that traditional shelters were not working, or addressing the needs of Veterans.Veterans fought for the rights of all, including themselves. The Founder felt that no one should lose those rights by becoming homeless.
The Homeless are helping each other when given the proper resources.
They have been pioneers since the start, and have shown that most of the homeless Veteran's problem can be greatly reduced. Thanks to a state grant, they now have three paid staff. But there is far more to be done. They are only limited by funding. Grants are used for specific projects and cannot be used towards operational costs. The huge increase in homeless Veterans has strained their resources. They are hoping Congress will quickly act as many are disabled and in need of additional help. While they are trying to help more Veterans, they forget about the shelters that keep them off the streets and keep them safe.
The Mission in Citrus has a very high success rate, due to offering a hand up and not a handout. And who better to help the homeless, then those who been there and have the knowledge to help others succeed. There have been many imitators, but the Mission in Citrus is the real deal...
The Mission in Citrus is pushing on harder to reduce homelessness.They would like to thank all that have made it possible.
Source: Mission in Citrus Inc
Share:
---
Categories: A&E News, Affirmative Action and Equal Rights, Corporate Social Responsibility
Tags: celebrities, homeless children, homeless women, news, philanthrophy, poverty
---