The Future of Manufacturing: Leading Futurist to Speak at Foundry Executive & Leadership Conference Today
Press Release
•
updated: Sep 19, 2017
Global Futurist Jack Uldrich to join other leading speakers, including USS Cole Commander, Kirk Lippold, and the President The Peerman Group, Celina Peerman, Ph.D., in Vermont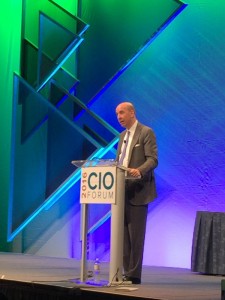 STOWE, Vt., September 19, 2017 (Newswire.com) - International futurist and best-selling author Jack Uldrich will be in Vermont today to address leaders in the metalcasting industry. He will be speaking on the future of manufacturing at The American Foundry Society's Foundry Executive & Leadership Conference.
In his opening keynote titled, "Automation and Business Disruption," Uldrich will discuss how emerging and converging technologies are beginning to revolutionize manufacturing and have the potential to transform metalcasting. In his presentation, he will cover topics including artificial intelligence, nanotechnology, 3D printing, augmented and virtual reality, wearable computing, and new advancements in Internet of things devices. His aim is to help his audiences unlearn the barriers currently holding them back so they can unlock new levels of creativity and innovation.
The work I do is all about helping organizations prepare for the coming technological changes so that they can efficiently navigate and determine the course of their future.

JACK ULDRICH, FUTURIST & FOUNDER OF THE SCHOOL OF UNLEARNING
A frequent speaker on the future of manufacturing, Uldrich shared his insights on the industry with the Ansell Corporation in Ho Chi Minh City, Vietnam this past week. Other manufacturing clients that have looked to Uldrich for insights on future trends include the Precision Metalforming Association (PMA), Stiles, Siemens, the IBD, Emerson, ABB, Honeywell, Trane, Eaton, and the Packaging Machinery Manufacturers Institute (PMMI.)
Uldrich is the author of 11 books, including the award-winning bestsellers: "The Next Big Thing is Really Small: How Nanotechnology Will Change the Future of Your Business," and "Jump the Curve: 50 Essential Strategies to Help Your Company Stay Ahead of Emerging Technology." His most recent book is "Foresight 20/20: A Futurist Explores the Trends Transforming Tomorrow."
For inquiries about booking Jack Uldrich for a public speaking engagement, please view his website.
Source: Jack Uldrich & The School of Unlearning
Related Media