The Future of Gizer | eSports, Virtual Goods, and the Blockchain
Press Release
•
updated: Mar 27, 2018
Global Gaming Network aims to disrupt trillion dollar gaming and collectibles industries.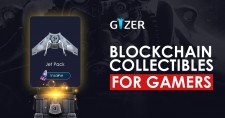 NEW YORK, March 27, 2018 (Newswire.com) - ​​Just recently, Gizer was selected by Entrepreneur Magazine as one of the top 14 blockchain companies to watch out for in 2018. The product? An online gaming platform and community that integrates competitive gaming, player interaction and the monetizing of gaming-related skills. Gizer currently boasts thousands of engaged players on its platform, with users in over 45 countries; living up to its title as the "Global Gaming Network".
Gizer CEO Jack Lamir notes:
Blockchain tech provides us a strong solution for proof of ownership, peer-to-peer transactions, automation of tournaments and payouts, and transparent data.

Jack Lamir, CEO
"Gaming is a big industry that lacks a unified way of developing and rewarding time and skills. For a long time, gaming has been the preserve of segregated individuals or groups with the only option for an online experience being through restricted and often quite expensive online gaming systems."
Never before has there been a full integration between the hosts, services, and gamers within the electronic games community. According to an article on CoinTelegraph:
"Gizer has positioned themselves to be a more decentralized 'LinkedIn' of the gaming realm."
For the first time ever, graphic designers, video and fx experts, and all types of skilled gamers can offer their services online and get paid through the same network where thousands of active and engaged gamers are competing for glory.
In line with major trends in the gaming industry, Gizer is focused on providing a seamless mobile experience for the network. In 2018, mobile gaming is estimated to account for roughly 50 percent of the global games market annual revenue. The launch of both iOS and Android applications puts the company right at the heart of this global growth and acceptance. The potential is limitless with opportunities in the $115 billion a year industry. Statistics show that there are just above 2.3 billion gamers worldwide, with eSports enjoying 215 million of the total number of gamers.
In November 2017, the company entered into partnerships with two blockchain companies in the VR/AR space: Gaze Coin, which is focused on eye-tracking and developer monetization, and Reality Clash, a studio building an augmented reality FPS game for mobile. The partnerships marked a major inroad to delivering full eSports experiences in VR. The companies seek together to help introduce lower barriers to entry and a diverse range of monetization opportunities for hosts and their eSports organizations.
Christened as "GGiD", Gizer's Global Gaming identity is built on the Ethereum blockchain and features two types of crypto-tokens. GZR is the ERC20 token which allows gamers to collect scarce items for their profile, and the Items themselves feature proof-of-ownership through ERC721 non-fungible tokens.
When asked about Gizer's use of Ethereum, CEO Jack Lamir stated:
"Blockchain tech provides us a strong solution for proof of ownership, peer-to-peer transactions, automation of tournaments and payouts, and transparent data."
GZR tokens can be purchased starting March 27 only on http://tokensale.gizer.io. 20 percent of total tokens have already been sold in a presale. The product is functional and users can start collecting items and equipping them to their avatar immediately after purchasing GZR on the website. Learn more about building your identity on the blockchain.
Media Contact:
Brendan Weinstein
Phone: 309.592.4939
Email: brendan@gizer.io
Source: Gizer
Additional Links