Global Gaming Network Gizer's Fast-Growing iOS/Android Apps Fueled by Competitive Mobile Gamers Worldwide
Press Release
•
updated: Nov 13, 2017
After launching the Gizer iOS/Android apps, the NYC-based starup's upcoming token sale has garnered plenty of momentum, earning top ratings from both ICOBench and Hacked. Surprisingly quick adoption of the network has fueled much of the company's early growth, with a community already totaling well into the thousands as Gizer looks to expand its imprint on the mobile gaming ecosystem.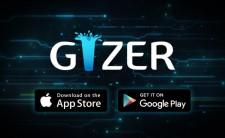 NYC, NEW YORK, November 13, 2017 (Newswire.com) - ​​​Recently, Gizer made headlines by revealing the members of their token sale advisory board, comprised of thought leaders from a broad range of industries and backgrounds. The team is currently working with third-party compliance partner SAFTLaunch.com, offering GZR tokens to accredited investors via the SAFT (Simple Agreement for Future Tokens) framework in a private sale. With their public GZR Token Sale slated to take place on November 21, the company has already quietly launched the cornerstone of their global gaming network, a mobile platform available for iOS/Android. The platform connects all members across the gaming ecosystem in real-time, generating connections through the tournaments, services, and products constantly available on Gizer. Early adoption by players of Clash Royale, the mobile mega-hit developed by Tencent owned SuperCell, has allowed Gizer to quickly gain a foothold in the booming mobile segment of the gaming industry (~20% YoY according to Newzoo).
One advantage to launching the platform prior to the issuance of their GZR token, is that Gizer has used the time since to develop various partnerships and collaborations across the gaming ecosystem, helping them optimize the value provided across the Gizer network. To help generate a more rewarding user experience, Gizer has partnered with adtech powerhouse Tapjoy. On the competitive side, Gizer has engaged much of the Clash Royale community by offering a network that's ideal for event discovery, and peer-to-peer connections. Collaborations with a number of competitive leagues and dedicated tournament hosts have provided hungry gamers with a constant stream of tournaments, many paying out Boost (Gizer's in-app currency), to the top finishers. These partnerships have contributed to impressive MAU growth, roughly 5,000% since the release of Gizer's android beta roughly two months ago. The app's growth has been so rapid that Gendrago, Clash Royale's all-time winningest individual player, has partnered with the company to host and stream daily tournaments, bringing the real-time connectivity of Gizer events to his own following.
While the full version of Gizer's marketplace isn't expected to be released until Q2 2018, the platform already generates transactions between buyers and sellers in the app's 'Services' feed, where individual freelancers and businesses are using the network to promote their offerings from within the gaming community. Gizer has used their long-standing partnership with TheMonetizr (Techstars '17), a drop-ship manufacturer that creates custom merchandise for gamers, "to better understand the challenges and opportunities facing sellers in the Gizer marketplace" according to CEO Jack Lamir. The broad range of 'services' already available on Gizer, in addition to the competitive events, has helped propel the Global Gaming Network to more than 5,000 gamers strong, a surprising figure given the company's notable lack of paid marketing thus far.
Other partnerships formed, like those with game developers IsCool Ent., and Gaze Coin, will help expand the competitive communities on Gizer and the adoption of GG ID. Gizer's GZR token will allow holders to access a Global Gaming Identity, or GG ID. This identity, created on Gizer, consists of three parts: a customizable avatar, a gamertag, and gaming statistics. The identity, which can be used in any game that adopts Gizer's technology, will become increasingly valuable as more and more developers begin to partner with the global gaming network. Users can gain access to their GG-ID by holding any amount of GZR in their wallets, ensuring that holders of the GZR token will be able to best leverage the Gizer network. The GZR token is currently available to accredited investors via SAFTLaunch.com, and will go on sale to the public on November 21st, 2017.
Source: Gizer Inc
Related Media