CryptoKitties or CryptoCatastrophe? Breedable Beanie Babies Go Viral and Cause Massive Delays on Ethereum Blockchain. Are Blockchain Virtual Goods the Next Big Thing for Gamers?
Press Release
•
updated: Dec 10, 2017
Since its launch only a week ago, CryptoKitties players have already spent over $10M on the virtual goods craze, causing unprecedented delays in the Ethereum network. This phenomenon is indicative of the future potential of virtual goods and gaming on the Blockchain. The revelation comes at the perfect time for an NYC-based startup launching its own set of virtual goods on the blockchain.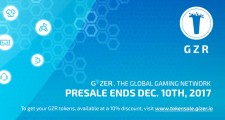 NEW YORK, December 10, 2017 (Newswire.com) - ​​No one could have foreseen the meteoric rise of CryptoKitties, the viral trading game launched earlier this week by Vancouver/San Fransisco based AxiomZen. According to third-party research from developer Niel de la Rouviere, players thus far have spent the equivalent of $10.6M on the virtual goods. The 70,000 or so sales coming from the game are clogging up the entire Ethereum network, exposing scalability issues. More importantly proving undoubtedly that a business model centered around collectible and marketable virtual items is a strong proponent for mainstream adoption of blockchain technology.
In response to criticisms that Ethereum clearly lacks the scale to handle such demand, Ethereum Co-Founder Joseph Lubin emphasized the quality of the global developer team working on the network's open-source software.
"With the largest developer community of any blockchain platform by far, the Ethereum blockchain is in an excellent position, especially at this early stage, to be able to deliver on its potential," said Lubin.
Virtual goods have a far greater market impact than many might think. Since the earliest social networks, virtual goods have played a critical role in shaping the behaviors and business models behind many of today's major trends in online engagement. According to Venture Beat, virtual goods create more than $15 Billion in annual revenue.
These milestones have gleamed incredible new insights for mobile gaming network Gizer. Virtual items are a powerful new type of asset and bringing them to the blockchain will allow gamers to not only purchase these items in-game, but to actually take physical ownership of them and to use them across multiple platforms at their own discretion.
For the next 24 hours Gizer is holding a public presale of their GZR token on the Ethereum network. GZR represents virtual items intended for a gamers Global Gaming Identity (GGiD) as they compete across a variety of games. GGiD is a unique identity on the blockchain to which players can apply virtual items to build out their avatars. Applying these items to their GGiD allows players to bring their unlocked items to life in an exciting and interactive way.
Once unlocked, players can choose to equip and utilize these items as they compete in tournaments across a variety of platforms or can instead opt to list their items on a marketplace in order to turn a profit. The items can be collected, equipped, traded, or exchanged for other items and even currencies, like ETH. The scarcity of coveted items available will open up a new channel for members of the gaming community to interact with each other. Perhaps the most exciting aspect is that the price or fair market value of these items is decided not by Gizer but the users themselves.
Virtual goods on the blockchain, as well as the business model behind GZR, have never looked more compelling. The recent congestion caused by the viral sensation has been an important stress test for the Ethereum network. The Ethereum blockchain is still very young and Gizer believes strongly in the world-class development team behind Ethereum and that they will take the lessons from this monumental event to vastly improve the network as a whole; improving both scalability and transaction speed going forward. Gizer is currently in open beta on iOS and Android and readers interested in getting involved can only purchase GZR for the next 24 hours on their official website.
Supporters of the project can purchase tokens today at https://tokensale.gizer.io, by clicking 'Contribute' and accepting the terms + conditions. Please contact support@gizer.io for questions. The presale currently includes a 10% bonus, for a limited time only, as a thank you to the project's earliest supporters.
Source: Gizer, Inc.
Related Media
Additional Links