The Dory Sentry Battery-Powered Solar Generator: Your Ultimate 3-in-1 Power Solution
Press Release
•
Aug 18, 2023
Clean, Quiet and Safe Solar Generator for Indoor Backup, Portable and Uninterruptible Power Supply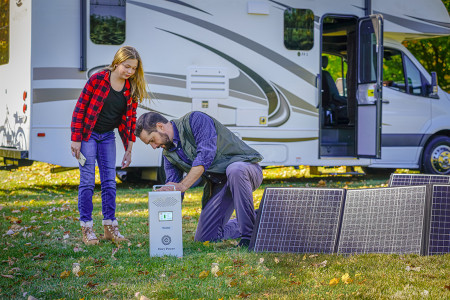 CLEVELAND, August 18, 2023 (Newswire.com) - Dory Power is proud to introduce the revolutionary Dory Sentry Battery-Powered Solar Generator, a game-changing innovation that combines the power of a solar generator, a portable power station, and an uninterruptible power supply all in one sleek and efficient system.
Key Specifications:
Power Output: 2500W continuous power, with a remarkable peak power of 5200W.
Battery Capacity: A large 2600Wh storage capacity to keep you powered when you need it most.
Fast Charging: Recharge the Dory Sentry in just 2.5 hours, ensuring you are always ready for the next power demand.
Solar Charging: Harness the sun's energy with compatibility for 800W solar panels, capable of charging the Dory Sentry to full in just four hours.
Durability: Designed to last, the Dory Sentry boasts a service life of up to 10 years, providing reliable and uninterrupted power for years to come.
Remote Monitoring: Stay in control with the Dory Sentry's mobile app, allowing you to remotely access and monitor battery usage and conditions.
The Dory Sentry is engineered to be the ultimate power solution in various scenarios from power outages to off-grid adventures. With its versatile applications, the Dory Sentry ensures that essential devices and equipment remain operational when you need them most.
Versatile Applications:
Emergency Power: Keep critical appliances running during power outages, such as furnaces, refrigerators, and medical equipment, ensuring safety and comfort for you and your loved ones.
Entertainment and Connectivity: Power up TVs, Wi-Fi routers, and other entertainment devices to stay connected and entertained even in the midst of disruptions.
Off-Grid Exploration: Take the Dory Sentry on outdoor adventures from camping trips to remote cabins, and enjoy the comforts of home anywhere you go.
The Dory-branded battery generators have gained widespread acclaim, being adopted by hospitals, medical labs, restaurants, law firms, universities, and households across the United States. With the introduction of the Dory Sentry Battery-Powered Solar Generator, Dory Power continues its dedication and commitment to providing exceptional power solutions to a diverse range of customers.
The Dory Sentry Battery-Powered Solar Generator is set to transform the way individuals, families, and businesses approach power solutions. Its innovative design, coupled with its unparalleled performance, makes it a must-have for anyone seeking reliable and efficient power sources.
For more information about the Dory Sentry and to place an order, please visit Sentry.DoryPower.com or contact our sales team at 216.386.3953 or sales@dorypower.com.
Source: Dory Power