Dory Power to Showcase Advanced Solar Generators at Consumer Electronics Show 2024
Press Release
•
Sep 1, 2023
Innovative technologies meet portability, reliability and uninterruptibility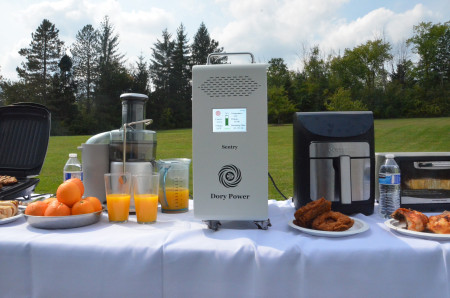 CLEVELAND, September 1, 2023 (Newswire.com) - Dory Power, a leading US technology company specializing in portable power solutions, is excited to announce its participation in the upcoming Consumer Electronics Show (CES) in Las Vegas, scheduled to take place from January 9th to 12th, 2024. CES, organized by the Consumer Technology Association, stands as the premier global event for technology enthusiasts and industry leaders alike.
Recognized for its groundbreaking portable power solutions, Dory Power will leverage CES 2024 as a platform to unveil their latest innovations in solar technology. Attendees can look forward to experiencing firsthand the company's advanced 3-in-1 systems, which seamlessly integrate solar generators, portable power stations, and uninterruptible power supply capabilities.
With CES being the most influential tech event worldwide, Dory Power's participation is a testament to their standing as an industry leader. Attendees can anticipate an immersive experience at the Dory Power booth, where they will have the opportunity to explore the company's latest offerings, engage with product experts, and witness firsthand the capabilities of these cutting-edge solar generators.
Dory Power extends an open invitation to all interested parties, including partners and clients, to join them at CES 2024. This event provides a unique chance to witness the convergence of technology and innovation, all under one roof. Attendees can expect to gain insights into how Dory Power's products can empower a wide range of applications, from indoor backup to outdoor adventures.
For those looking to connect with Dory Power during the event or schedule a dedicated demonstration, representatives will be available at the Dory Power booth throughout the duration of CES 2024. Additional details about the booth location and scheduling opportunities will be made available closer to the event date.
About Dory Power:
Dory Power, founded in 2017 in Cleveland, Ohio, is a leading US technology company focusing on the design and manufacture of advanced lithium-ion battery power systems for energy storage and backup power supply. Dory Power develops and manufactures a range of innovative solar generators and uninterruptible power supply systems, being used by households, hospitals, labs, data centers, law firms, restaurants, and universities nationwide in the United States. The company's mission is to empower people with the freedom to access clean and efficient energy wherever and whenever they need it. Through continuous innovation and a customer-centric approach, Dory Power is shaping the future of portable power solutions.
Source: Dory Power company