The Corruption and Narcoterrorism Fueling Iran-Backed Houthi Attacks on Yemenis and Saudis
Press Release
•
Oct 24, 2021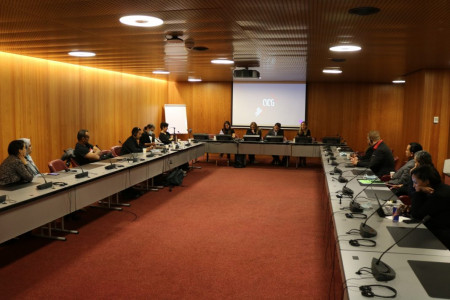 NEW YORK, October 24, 2021 (Newswire.com) - The Washington Outsider is a media source focused on covering niche foreign policy and security news from around the world (www.theWO.news).
The Washington Outsider, a foreign policy and security-focused publication, organized a live event in Geneva on the sidelines of the 48th United Nations Human Rights Council Session, to highlight the factors explaining and enabling Houthis violence and fanatical hatred of the Saudis, non-Houthi Yemenis, Americans, Israelis, Jews, and anyone who deigned to criticize their methods and ideology. The event addressed the corruption and narcoterrorism modeled after Iran's shadow economy, which allowed Iran proxy regimes to plunder their respective countries, destabilize the region, and raise funding in support of their bellicose activities and terrorism.
The event, which, besides the Editor-in-Chief of The Washington Outsider, included Ellie Cohanim, the former Deputy Special Envoy for Monitoring and Combating Anti-Semitism and a Senior Fellow at the Center for Security Policy, Adelle Nazarian, a journalist and a Senior Fellow at the Gold Institute for International Strategy, and Andy Vermaut, a human rights defender, who runs Post Versa, revealed how Iran's proxies have consistently used corruption and narcoterrorism to support the regime's exportation of the Islamic Revolution, which is central to the existence of the Islamic Republic.
"We know that a humanitarian disaster is taking place in Yemen before our very eyes. Everyone has heard something somewhere." - Andy Vermaut stated.
Speaking at the conference, former US Deputy Envoy to Combat Antisemitism, Ellie Cohanim, noted the deeply antisemitic, Nazi-like nature of the Houthis.
According to Dr. Wesam Basindowah, President of the Yemeni Coalition for Independent Women, the human rights team is looking forward to implementing the desired goals of this international human rights activity. That is why, "We seek to put the world before the true image of the Houthi militia, and to confront the human rights organizations that are trying to launder the militia's crimes, and for this we have eight events that address all issues of minorities, women and Houthi crimes in all their forms."
The Houthis pride themselves on being more radical and fanatical than Iranians; they have taken mismanagement of resources to the next level. To support Iran's regional hegemony and theological aim of surpassing Saudi Arabia as a religious authority, like Hezbullah, Polisario, and other Iran-backed militias, Houthis have turned to exportation of drugs and to alliances with other terrorist and criminal groups.
With Al Qaeda and ISIS resurging in Yemen, the terrorist organizations like their counterparts all over the world will share in intelligence, best practices, and criminal side schemes to maintain a shadow economy and to sidestep international sanctions. Houthis do not see Yemen as a "country" or a viable form of investment. Their ideology, dedication to Iran, and personal corruption results in disdain towards anyone who is not a follower and of course, a particular virulent hatred towards Saudis.
Source: The Washington Outsider