Attack on Marib Highlights Houthi Indifference to Women in Children
Press Release
•
Oct 10, 2021
The latest attack by the Iran-backed Houthi militias against the last stronghold of the Arab Coalition in the North, highlighted the Houthi willingness to sacrifice women and children in pursuit of exporting Iran's Islamic Revolution to Yemen.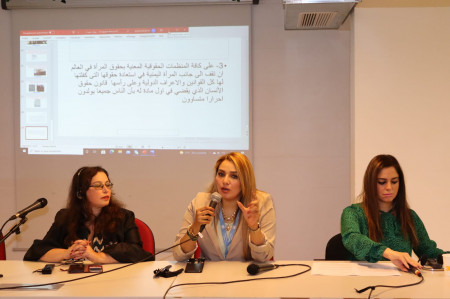 NEW YORK, October 10, 2021 (Newswire.com) - The Washington Outsider is a media source focused on covering niche foreign policy and security news from around the world. (www.theWO.news).
Yemen Coalition of Independent Women organized a series of seminars in Geneva on the sidelines of the 48th UN Human Rights Council session, addressing Houthi manipulation of women's and children's issues and the resulting devastation. Dr. Wesam Basindowah, president of YCIW, explained that women are the weakest link in society. Health conditions are in a state of deterioration and displaced women in Yemen are in a bad situation. In all economic and social levels, the interruption of salaries affects the whole family, but its impact is greater on women.
Adelle Nazarian, a Distinguished Fellow at the Gold Institute for International Studies highlighted that the Houthis are following the Iranian model: recruiting women to oppress other women, and indoctrinating children in hatred of Saudis, Americans, Israelis, and Jews. The goal, she explained, is to exploit both the children and parents financially and force them into combat.
Prof. Mansour Al-Shadadi, President of the Yemeni European House for Human Rights, discussing the recruitment of child soldiers, explained that even when they are liberated by the Arab Coalition forces, most remain living in militia-controlled areas, and therefore are subject to re-recruitment. He called on the international community to help with the reintegration for these youths, explaining the importance of creating a stable and consistent environment to minimize the risk of ideological resurgence.
The situation with women is no different; women are left with no access to healthcare and forced to stay home. As a result of complete disenfranchisement, they are left few options for survival as the international community continues to ignore their situation and reports little on these day-to-day struggles. Irina Tsukerman, a human rights lawyer, and the Editor-in-Chief of The Washington Outsider made several recommendations to improve the situations of women that international human rights NGOs can address if they wish to do more than lip service for the media. These include Several things the international community could have and should have done but did not alleviate the plight of the invisible Yemeni women Include: 1) giving them platforms for communicating with the outside world 2) pressuring Houthis on prioritizing women with young children in distribution of aid 3) creating mechanisms for protecting hospitals focused on women's issues 4) making assistance to local NGOs distributing aid contingent on showing measurable progress with regards to women's situation in various fields such as poverty, medical treatment, and employment 5) working with the appropriate state and international institutions to promote sanctions against Houthis related to their discrimination, neglect, and curtailing of women's rights.
Source: The Washington Outsider