The Brooks Group Named One of '2018 Best Employers in North Carolina'
Press Release
-
updated: May 4, 2018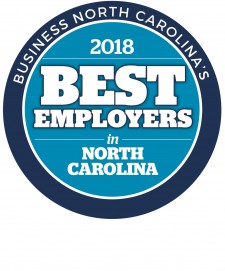 GREENSBORO, N.C., May 4, 2018 (Newswire.com) - The Brooks Group, a global sales training and selling solutions firm, was recently named as one of the 2018 Best Employers in North Carolina. This program was created by Business North Carolina, NC SHRM and Best Companies Group.
This survey and awards program was designed to identify, recognize, and honor the best employers in North Carolina, benefiting the economy, workforce, and businesses in the state of North Carolina. The list is made up of 45 companies.
To be considered for participation, companies had to fulfill the following eligibility requirements:
Be a for-profit, not-for-profit business or government entity
Be a publicly or privately held business
Have a facility in the state of North Carolina
Have a minimum of 15 employees working in the state of North Carolina
Must be in business a minimum of one year
Companies from North Carolina entered the two-part survey process to determine the 2018 Best Employers in North Carolina. The first part consisted of evaluating each nominated company's workplace policies, practices, philosophy, systems, and demographics.
The second part consisted of an employee survey to measure the employee experience. The combined scores determined the top companies and the final ranking. Best Companies Group managed the overall registration and survey process, analyzed the data, and determined the final rankings.
For more information on the Best Employers in North Carolina program, visit www.BestEmployersNC.com
About The Brooks Group
Founded in 1977, The Brooks Group focuses on providing clients with practical, straightforward solutions to improve and maintain overall sales effectiveness.
Comprehensive sales assessments allow training to be highly individualized, and an industry-leading coaching and reinforcement methodology solidifies training and improves client ROI.
CONTACT: Rich Recchio
1 800.633.7762
contact@thebrooksgroup.com 
Source: The Brooks Group
Share:
---
Categories: Business Development, Consulting and Professional Services
Tags: corporate sales training, industrial distribution sales training, sales effectiveness, sales enablement, sales management training, sales selection, sales training, sales training firm
---