The Brand Advocates Wins Three National Healthcare Advertising Awards
Awards Received for Creative Work Done for Leading Healthcare Brands Johnson & Johnson and Stryker
Press Release
-
updated: May 29, 2018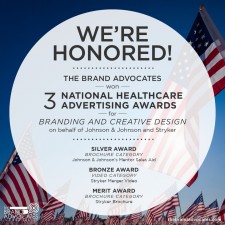 MIAMI, May 29, 2018 (Newswire.com) - The Brand Advocates, a leading communications firm based in Miami, has earned three national Healthcare Advertising Awards for branding and creative design work on behalf of Johnson & Johnson and Stryker. The 35th annual competition is sponsored by Healthcare Marketing Report, a leading publication in healthcare marketing and advertising. Healthcare Marketing Report is the oldest, largest and most widely respected healthcare advertising awards competition in the United States.
"When these amazing brands needed to tell a compelling story to promote their products, they turned to The Brand Advocates and we are thrilled to have been recognized for our creative work on their behalf," said Managing Partner Tasha Cunningham. "We are honored that our clients put their trust in our team to develop innovative campaigns that deliver results. As we continue to expand our healthcare division, we are excited to hit the ground running with award-winning campaigns to pave the way."
The Brand Advocates team, led by Cunningham and Creative Director Mike Hlavsa a won silver, bronze and merit prizes including: 
Reviving a Global Brand for Johnson & Johnson.
Johnson & Johnson's Mentor division launched a rebranding effort in 2017 called "Own the Day" aimed at empowering women to make the choice that is right for them when it comes to how they look and feel. The campaign was aimed at both consumers and the division's internal sales force. The Brand Advocates team received a Silver Healthcare Advertising Award in the brochure category for a sales aid created for consumers and Mentor's internal sales team to promote their products to doctors. Of nearly 4,000 entries received in this year's competition, less than one percent received Silver prizes.
Conveying a Major Healthcare Merger.
When Stryker acquired competitor Novadaq in 2017, the company turned to The Brand Advocates to create a video announcing the merger. The video received a Bronze Healthcare Advertising Award in the video category. Of nearly 4,000 entries received this year, just 280 Bronze prizes were given in the competition.
Showcasing Innovative Medical Devices.
Stryker is one of the world's leading medical technology companies developing innovative products and services in orthopedics, medical, surgical, neurotechnology, and spine. When the company launched its PneumoClear insufflation device, The Brand Advocates team created a brochure and tradeshow branding to promote it. The team received a Merit Healthcare Advertising Award in the brochure category for its work.
About The Brand Advocates
The Brand Advocates Inc. is an award-winning team of communications professionals specializing in public relations, communications campaigns, branding, experiential marketing and civic engagement for private and public-sector brands. The Brand Advocates are a boutique agency with a vision to create campaigns that generate engagement, create conversation, build consensus and earn media. As senior veterans of large PR agencies with the national perspectives and local insights that differentiate its client brands and position them for success.
Source: The Brand Advocates
Share:
---
Categories: Advertising
Tags: #advocatebrands @advocatebrands, #brandadvocates, endoscopy, johnson & johnson, medical device branding, stryker, tasha cunningham, tasha cunningham miami
---