Texila E-Conference Announces 2018 Edition of Global Digital Marketing Summit
Press Release
•
updated: Feb 7, 2018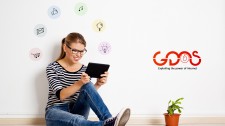 TAMIL NADU, India, February 7, 2018 (Newswire.com) - Texila eConference, a well-known name in the field of virtual conferences has announced its 2018 Edition of Global Digital Marketing Summit. The group has been conducting online conferences since 2014 and this will be their sixth such event in a row. An event conceived for American entrepreneurs, executives of EMEA, and the Asia Pacific region.
The event promises to be a feat that will be remembered for adding value to the existing skill set of its participants. The conference aims to bridge the gap between the industry acclaimed experts and the corporate workforce.
The summit will be a three series event, comprising of modules like keynote speech, presentation on practical insights into digital marketing, cease-fire, a one-on-one debate on the latest methodologies of digital marketing, a workshop on marketing and automation tools, discussion on case studies pertaining to digital marketing and women entrepreneurship.
GDMS 2018 will witness speakers and corporations from 85+ countries and participation of over 15,000 delegates and 300+ corporations sharing the same stage, dispersing their knowledge and wisdom. Almost 180 large cap and 50 emerging corporate houses are also expected to join the bandwagon soon. The summit will act as a great collaborative platform for professionals participating from across the globe.
The key takeaways from the 2018 event will include gaining first-hand knowledge of latest trends in digital marketing, basic training, and insights on the new digital marketing tools and will also provide ample networking opportunities for budding entrepreneurs.
"This summit will be a platform for budding digital mavericks where they can freely interact with the experts and be on the right path," says the Program Head of Texila eConference, India. The American chapter of Global Digital Marketing Summit is scheduled for July 11 & 12, 2018. The tentative dates for EMEA & Asia Pacific editions are July 25 & 26, 2018 and 8 & 9 August 2018 respectively.
Last year the event had participation and speakers from organizations like Microsoft, Trivago, and SEMrush with close to 5000 participating delegates coming from diverse field ranging from biomedical sciences, travel, hospitality, and e-commerce.
Registration as a delegate and speaker can be done after February 10, 2018, at https://gdms.texilaconference.org.
Source: Texila E-Conference
Additional Links