Texila International Journal, Public Health
Press Release
•
updated: Oct 23, 2018
Call For Paper: Submit By October 30, 2018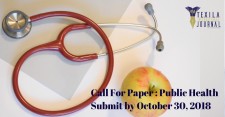 GEORGETOWN, Guyana, October 23, 2018 (Newswire.com) - Texila International Journal cordially invites the call for papers in Public health for scientists, professionals, and scholars in the field of Research to provide Emphasis on disease prevention and health promotion for the whole community. It is an outstanding opportunity for international scientists, leaders, and beginners, to submit their innovative research paper for e-journal and get recognized in the Research community worldwide. Public health is inextricably linked with Public Health Nutrition, Emerging infectious diseases, Climate Change Issues & global public health.
Today's global public health issues have increased due to the Environmental changes, less awareness of health care, usage of products harmful to health and environment, travel and mass migration. Many diseases are increasingly spreading to both developed and developing countries due to the lack of awareness in the field and no necessary actions or prevention taken against the diseases. So this e-journal research articles would create an impact and awareness across the globe and also would be a milestone for the future generation to encourage their research works.
Texila e-journal is specifically interested in rigorous quantitative research and evaluation research to advance the field of Public health research. This call will consider quality research on health care services, Distinctions between Public Health and Medicine and the improvement measures in the field. In this scenario, the development of global public health is vital towards sustainable, healthy communities.
Authors cordially invited to submit papers for the upcoming edition.
Journal Name: Public Health
ISSN: 2520-3134
Volume 6, Issue 4
Publication: December 2018
All Submission must reach the editor latest by 30 October 2018.
For further information regarding papers, registration, and updates, visit the journal website at http://www.texilajournal.com
Source: Texila International Journal
Additional Links