Texila International Journal, Basic Medical Science (ISSN: 2519-500X)
Press Release
•
updated: Oct 27, 2018
Call For Paper - Submit By November 15, 2018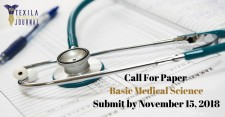 GEORGETOWN, Guyana, October 27, 2018 (Newswire.com) - Texila International Journal of Basic Medical Sciences invites submission of Call for Paper in the form of original research papers, case reports, reviews, methods/techniques, from all medical disciplines in the field of Basic Medical Science. It is dedicated to publication of research articles of Medical Sciences including basic experimental research and all clinical study such as internal medicine, surgery, cardiology, and infectious disease. International Journal of Medical Science also welcomes papers from other fields related to the study of human diseases, their preventional methods, new medicines and awareness creations in the field regarding Research. The papers submitted should be innovative, inspiring and have clarity in approach, experimental soundness and advances in knowledge.
In the past two decades, there has been a growing body of literature on how basic science fits into the practice of medicine, and how the society is made advanced with the help of the growth in this field. People are now able to identify some spreading diseases, their symptoms and precautions only because of this improvement in Basic Medical Science. Spreading more knowledge and throwing light on this field is considered an essential factor and so this opportunity would also give you a recognition and reachability when you submit your research paper on this field.
Authors cordially invited to submit papers for the upcoming edition.
Journal Name: Basic Medical Science
ISSN: 2519-500X
Volume 3, Issue 2
Publication: December 2018
All Submission must reach the editor latest by Nov. 15, 2018.
For further information regarding papers, registration, and updates, visit the journal website at http://www.texilajournal.com
Source: Texila International Journal