Terzetto Digital Teams Up With Monsido to Enhance Website Compliance
Press Release
•
Feb 15, 2022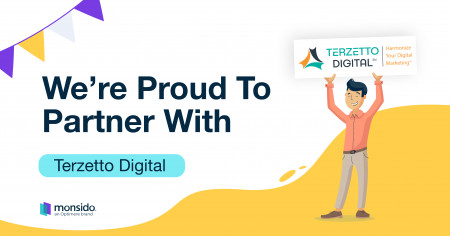 SAN DIEGO, February 15, 2022 (Newswire.com) - Terzetto Digital, a results-driven digital marketing agency focusing on strategy, content creation and website design, has teamed up with Monsido - a leading web governance platform, to help optimize and improve the compliance of their clients' websites.
As an organization with pride in high-quality web development, Terzetto Digital had taken the decision to only deliver websites that complied with the Americans with Disabilities Act (ADA) standards. Terzetto Digital was therefore in search of a web accessibility tool that would allow them to help their clients comply with ADA and Web Content Accessibility Guideline (WCAG) standards. They decided to partner with Monsido to offer better web accessibility compliance to their customers, as well as streamline overall website maintenance.
Beyond web accessibility, the Monsido Platform also enables Terzetto Digital to better address continuous search engine optimization (SEO), such as remedying broken links and misspellings, to more efficiently manage their clients' content marketing initiatives.
"For us as an agency, the real value in the Monsido Platform is the weekly automated website scans. This eliminates the need for manual checks on website accessibility, performance and content quality, and allows us to focus on remediating issues and securing a better experience on our clients' websites," says Richard Wilkinson, Founder and CEO at Terzetto Digital.
With clients on the WordPress content management system (CMS) platform, Terzetto Digital has also been able to benefit from Monsido's integration with the most popular CMS, which has enabled more seamless workflow processes.
Sterling Rose, Manager of Strategic Partnerships at Monsido, added that "Terzetto Digital's services were perfectly aligned with the capabilities of our platform, and we're thrilled that our agency partner model has allowed them to add an extra focus on website compliance. We look forward to supporting them as they grow their delivery of accessible and inclusive websites for their clients."
Terzetto began working with Monsido in August 2021, and has since then successfully utilized the platform to improve the websites of their client base.
About Terzetto Digital
Terzetto Digital helps small and medium businesses grow through affordable digital marketing services, providing those businesses with results that increase revenue while saving them time. As a full-service digital marketing agency, Terzetto Digital integrates over 100 services that bring the three essential parts of digital marketing (strategy, content, and design) into harmony. From website design and website compliance to content marketing and digital advertising. All the digital marketing services a small business needs in one place. Finally! To learn more about how to Harmonize Your Digital MarketingSM, visit terzettodigital.com.
About Monsido - an Optimere brand
Monsido is a leading web governance solution designed to enable organizations to deliver a superior and inclusive user experience across their digital presence and support their journey to ensure communications are open, optimized, and compliant. The Monsido Platform includes a cohesive suite of tools for web accessibility, website quality assurance, brand and content compliance, user consent management, social and web content archiving, and more. Monsido is a brand of digital compliance, web accessibility, and records management solutions company Optimere. For more information, visit monsido.com.
Source: Monsido