Monsido Enhances Platform With Mobile Accessibility Testing
Press Release
•
Jul 12, 2022
Delivering a more inclusive mobile experience for every user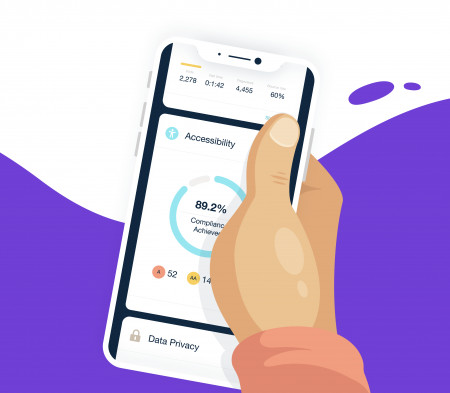 SAN DIEGO, July 12, 2022 (Newswire.com) - Monsido, a leading web governance platform powered by CivicPlus®, has announced the addition of automated mobile accessibility testing. The latest enhancement enables teams to identify and resolve accessibility issues on mobile sites before they can impact users.
More than 50 percent of web traffic is generated from mobile. In addition, 70 percent of visually impaired people use a screen reader on a mobile device, so ensuring accessibility is key to providing a more inclusive and equitable experience for the community. Google rankings also evaluate the mobile accessibility of sites, making this both an ethical and business priority.
Monsido's mobile accessibility testing enables teams to continuously verify adherence to Web Content Accessibility Guidelines (WCAG) version 2.1, and it includes two new mobile-specific checks as part of its accessibility scan. The feature evaluates the responsiveness of a mobile site by confirming that pinch to zoom is enabled and two-dimensional scrolling is not present. This determines if a mobile site is accessible and meets governance standards.
"In our digitally dependent world, providing an equitable experience on mobile devices is mission-critical," said Jillian Als, VP of Marketing, Commercial, International and Partnerships at Monsido. "Now organizations have a way to automatically identify and resolve issues, ensuring an inclusive and truly responsive experience that delights every website visitor."
The mobile accessibility capability is available within the Monsido UI and the Monsido Browser Extension.

About Monsido
Monsido is a leading web governance solution designed to enable organizations to deliver a superior and inclusive user experience across their digital presence and support their journey to ensure communications are open, optimized, and compliant. The Monsido Platform includes a cohesive suite of tools for web accessibility, website quality assurance, brand and content compliance, user consent management, social and web content archiving, and more. Monsido is powered by integrated technology leader CivicPlus®. For more information, visit monsido.com.
About CivicPlus
CivicPlus® delivers technology solutions that enable local governments to optimize the experience they deliver when interacting with residents. Over 12,000 customers use our solutions when serving their 340 million residents in the United States and Canada alone. We deliver the industry's first and only Civic Experience Platform. It enables local governments to drive more revenue, operate more efficiently, and generate positive recognition for the many services they provide every day. For more information, visit civicplus.com.
Source: Monsido - powered by CivicPlus