"Tempting Fate" - This Year's Must Watch Movie on Love, Betrayal, and Forgiveness
Press Release
•
Apr 7, 2016
"Tempting Fate" is a movie that deals with the same issue we face in our daily lives. It tries to show the impact of love , betrayal and forgiveness. This movie has gotten great reviews and has helped a lot of people deal with some troubling issues in their relationships, family, place of work, and marriage.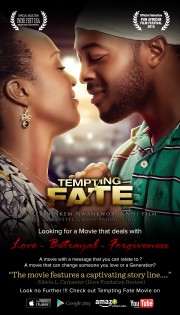 Lawrenceville, GA, April 7, 2016 (Newswire.com) - ​Tempting Fate, a 2015 Drama written, directed, and produced by Kevin Nwankwor, is a powerful tale unlike any other that truly dissects the meaning of love, betrayal, and forgiveness through a suspenseful and emotion film. A story of two very different brothers, one from a life of faith and kindness, and the other from a life of gangs and crimes, Tempting Fate illustrates the emotions, connections, and misunderstanding that results when two very different people of the same background cross paths.
"This movie is the ultimate solace for anyone going through strained familial relations, fall-outs, and just plain hurt and betrayal," said Kevin Nwankwor. "We put many months into the production of this film, and couldn't be happier with the final result. Released at the end of 2015, Tempting Fate is the perfect must-watch film of this year for viewers of all ages looking for entertainment, suspense, and life lessons in the end."
The movie features a captivating story line (4 doves out of 5).

Edwin L. Carpenter, Dove Foundation
The film stars top notch talent like Ramsey Nouah, Dan Davies, and John Vogel. First premiered in 2015 at the Pan American Film Festival and the USA Indie Fest, the movie has been met with widespread support and acclaim from viewers of all backgrounds. Produced from powerful and active Christians, themes of redemption, forgiveness, and salvation are interwoven throughout the movie's scenes.
"These brothers overcome adversity and shady pasts to protect one another moving forward," said Nwankwor. "It's the ultimate story of forgiveness, which is a bedrock principle of Christianity. The goal of Tempting Fate was to outline how hard life can get sometimes without our consent, but that it's possible to come back from anything through love, forgiveness, and above all, faith."
Nwankwor is a Nigerian-born actor, film director, and producer who has written and produced notable movies like Enemy Within and A Mother's Love, which went on to be the official film selection at the Gwinnett Center Film Festival and Marbella International Film Festival. A devout Christian and immensely passionate director, Nwankwor's movie expertise and eye from writing is evident from start to finish throughout Tempting Fate.
An almost two-hour drama, romance, and suspenseful thriller, Tempting Fate has it all, from heartbreak to grief, and everything in between. Now available for purchase on all major movie platforms, viewers will also absorb the completely original and unforgettable soundtrack that accompanies the film.
For more information, or to buy/rent the revolutionary thriller today, visit: http://kevinnwankwor.com/
Related Media
Tags
Additional Links