Tell Grandma She Can Be an Entrepreneur Too; New Craft Selling Craze Online
Press Release
•
updated: Feb 16, 2016
Leading business teacher notices a 35% jump in crafters getting into the game of selling their goods online.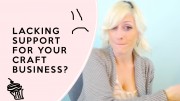 LAS VEGAS, Nevada, February 16, 2016 (Newswire.com) - ​​Renae Christine recently announced that she's seen a 35% increase in just the last year of online craft entrepreneurs who want to move out of the bake sale in your neighborhood and sell their goods online.
Christine said she noticed the sudden increase from several different factors including the inflation of handmade products on Etsy and Amazon Handmade and also from her own email box that went from 2,000 emails a month to over 6,000 each month. These are all emails from handmade entrepreneurs who discovered Christine on her YouTube channel or through her Facebook page.
"Some handmade entrepreneurs are becoming as competitive as Donald Trump and that's not necessarily a bad thing."

Renae Christine, Handmade Business Teacher
"Some handmade entrepreneurs are becoming as competitive as Donald Trump and that's not necessarily a bad thing," said Renae Christine, leading craft business coach from Cupcake Trainings LLC since 2012. "I have no doubt that some of these handmade entrepreneurs will become some of the top designers in the world. You watch. They are already being copied by the big chains. It's only a matter of time."
As a self-proclaimed YouTuber, Christine seems to have reached a group of handmade entrepreneurs that couldn't be reached any other way, through free YouTube tutorials. Her YouTube followers even insist Christine call the community members 'Besties' (a shortened term meaning best friends).
Christine herself had a rough spot where she became a single Mom of 3. At the time, Christine went as far as Googling homeless shelters in her area. Because of this, Christine has a soft spot for other single moms. Thus, Christine offers quick consultations right in the YouTube comments for one hour, free, after a new video is posted to YouTube each week.
With her premium training, Rich Mom University, opening enrollment for only 10 days a year in March, Christine has been massively adding new and improved trainings with photos of blue cupcakes to create excitement. Christine has quintupled her following in less than a year and many of the following has been waiting for the day they can enroll.
Many of Christine's current enrollees in the Rich Mom University have made videos on YouTube featuring Rich Mom University reviews without any affiliate pay from Renae.
"I don't have an affiliate program," said Renae Christine. "I want to make sure any Bestie who searches for Rich Mom reviews knows they are genuine, unhired Besties who have been through the program and love it."
Rich Mom University opens enrollment this year on March 10th, then closes again on March 20th.
Renae Christine is the leading teacher worldwide amongst mom entrepreneurs. She has taught over 100,000 crafters to get their products sold online through her YouTube channel. Christine also founded the #1 premium training for handmade businesses called Rich Mom University where she has over 1,000 students. Christine also authored 'Home Business Startup Bible' and '15 Handpicked Unique Suppliers for Handmade Businesses' which have both been best sellers on Amazon.
Related Media
Tags
Additional Links