Renae Christine Presents Her New Handmade Titan Planner Collection: The Ultimate Planner for Your Handmade Business
Press Release
-
May 24, 2016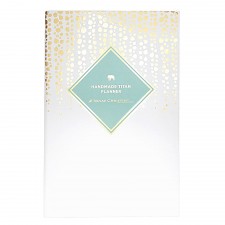 LAS VEGAS, Nevada, May 24, 2016 (Newswire.com) - Intricate product planning and time management are now a piece of cake for handmade entrepreneurs more so, work at home moms.
Leading online entrepreneur Renae Christine has launched her own new product line collection specifically meant for handmade entrepreneurs. The Rich Mom University and RichMomBusiness.com founder is on a mission to revolutionize handmade business with her hand product line collection dubbed, Handmade Titian Planner. 
Renae has helped countless business owners build successful businesses from scratch through her personal trainings. Her new Handmade Titan Planner is meant to help handmade entrepreneurs tackle their most pressing challenges in handmade business i.e. product planning and time management. 
The Handmade Titan Planner is the first planner of its kind to be meticulously designed exclusively for today's handmade entrepreneur. The planner has been engineered to handle all aspects of planning in handmade business. According to Renae, ''there is no need for any other planner once you get the Handmade Titan Planner. The planner has been intelligently designed to streamline all organizational aspects of a handmade professional. Join thousands of handmade professionals ready to take their businesses to the next level.'' 
The planner has been fully assembled from the custom-manufacturer. Orders will be delivered to customers' doorsteps. It's important to note that the planner isn't handmade but mass-manufactured for companies that make handmade products. 
What's included?
The Handmade Titan Planner comes with a 1st Edition authenticity guaranteed certificate, cupcake kisses design in gold foil on the front and back cover, refillable 4 gold-ring planner binder for easy yearly changes, extensive, 302 pages inside that reveal product line planning pages, calendar pages, a resource section and more, individual divider tabs featuring a white shimmer stock and gold foil embossing to showcase unrestrained luxury, uncluttered 16 month planner (covering March 2016 - June 2017) and essential task notes from Renae Christine peppered throughout the planner for extra expert advice. 
Buyers will also get bonuses such as 8 viral trainings and templates from Renae Christine, the world's leading handmade business coach. The planner also comes with a 30-day money back guarantee.
According to the product description, the planner is a rare first edition with limited quantities available. The Handmade Titan Planner also features a sleek elastic attached for simplified bookmarking. The size of the planner is practical for instant reference and easy storage. 
Accessories
Handmade Titan Planner owners have the opportunity to own other merchandise in the collection such as the Handmade Titan Insert, Handmade Titan Organization Stickers, Handmade Titan Tassel, Kids Busy Bundle, Cupcake Titan Bookmark Charm, Cupcake Titan Necklace, Cupcake Titan Clip Cupcake, Cupcake Titan Clip Trio, Cupcake Titan Clip Aqua Sparkle Flower and Cupcake Titan Clip White Sparkle Flower. The Handmade Titan Planner is however on sale separately. 
The Handmade Titan Insert is described as the perfect storage solution for the Handmade Titan Planner without sacrificing space or design. The insert features 9 pockets (6 on the inside, 3 on the back) for separating essentials and eliminating clutter. The insert also has a cutting-edge handmade expandable design that saves space. The insert which measures; 5.125" X 8.25" Closed, 8.75" X 8.25" Open adds functionality and fits perfectly into the Handmade Titan Planner.
Handmade Titan Organization Stickers have been designed to reduce the time it takes to design handmade products. The stickers will reduce planning time by hours by eliminating distractions. 
The Handmade Titan Tassel has been specifically made to add charm to your Handmade Titan Planner by adding soft blue and gold threads made from the highest quality materials. The Kids Busy Bundles is a convenient accessory that incorporates children's imagination into the handmade products design process. The Kids Busy Bundle has been approved by Renae Christine, a mother of 3. 
The Cupcake Titan Bookmark Charm is an accessory for making the planner prettier so that you never want to close it. The Cupcake Titan Necklace was designed to remind planners that they are Handmade Titans for life. The necklace doubles up as a charm to keep you focused on your handmade journey. 
The Cupcake Titan Clip Cupcake and Cupcake Titan Clip Trio are durable clips for intricately saving sports, (marking and saving) without tearing pages. 
The Cupcake Titan Clip Aqua and White Sparkle Flower accessories have been intricately designed to simplify planning, mark product line pages in style. The aqua sparkle portrays the latest trends while the white sparkle alludes to a fresh designer style. Both are designed to sit at the top of the Handmade Titan Planner.
According to Renae, ''the planner comes during a time when handmade entrepreneurs face serious planning and time management challenges. The Handmade Titan Planner solves these challenges perfectly while adding style, personality and charm in the process.'' The planner is retailing at a discounted price of $47 (30% discount) for a limited period of time. 
About Renae Christine
Renae Christine is a successful online entrepreneur, speaker and author of the Home Business Startup Bible. Renae has helped thousands of business owners build successful businesses by offering personal training via Rich Mom University and http://RichMomBusiness.com. She managed to build a 6-figure stationery business from her home and has purposed to help others do the same. She is a mother to three beautiful girls. 
For more information, visit: http://handmadetitanplanner.com/
Source: Renae Christine
Share:
---
Categories: Artists, Sewing and Knitting, Home-based Business
Tags: amazon handmade, craft, entrepreneur, handmade, renae christine, rich mom business, university
---