Cote Foundation Begins Live 'Rest in Christ' Bible Study Series
Along with bringing clean white socks and food to the homeless, Cote Foundation will now nurture via online ministry.
Press Release
-
updated: May 17, 2018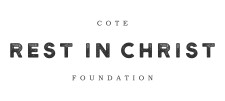 BERLIN, Conn., May 17, 2018 (Newswire.com) - The Cote Foundation, a nonprofit organization, is adding a weekly live bible study to their ministry. 
The live "Rest in Christ" Bible Study series starts May 18 in the Cote Foundation private Facebook group and will run indefinitely on Fridays at 10 a.m. EST.
Started by four brothers in 2016, the Cote Foundation desired to spread Jesus Christ's love and message by meeting the immediate needs of those looking for help and support.
They accomplished this is by providing food, aid, and new clean socks to the homeless.
When someone comes seeking help they are not met with questions of religious affiliation or spoken to with voices filled with pity. Instead, they are greeted with love, respect, and the offer to rest in a judgment-free environment.
"We know good deeds alone will not change the spiritual bankruptcy of the lost, but by our service we will reveal a living faith, motivated by Christ's love, empowered by the Spirit, and submitted to our Father's plan."
| Cote Foundation |
The Struggles, The Hardships, The Calling
What the Cote Foundation desires to do is meet people where they are; to meet their most immediate need so that they may earn the right to be heard on a national platform.
Tim and his three brothers, co-founders of the Cote Foundation, grew up a little rough around the edges. Like lost sheep, the brothers eventually found their path back to salvation. They knew that if their lives were going to continue to be blessed they needed to share God's love.
With a deep calling to meet the immediate needs of the suffering, the brothers served the homeless with food, clothing, and most importantly hope. Like a new pair of soft, simple white socks the Cote Foundation demonstrates a whole-hearted approach, and the founders continue to gain fellowship and trust on a daily basis.
"As Jesus served compassionately, without compromise, we are serving our neighbors, meeting their needs as the Lord leads through sharing our faith, time, and resources as we are led."
| Cote Foundation |
For more information contact Tim Cote directly at Tim@CoteFoundation.com or visit http://cotefoundation.com.
Join the private Facebook group to participate in weekly Bible Study at http://cotefoundation.com/facebook
Source: Cote Foundation
Share:
---
Categories: Non Profit, Special Needs and Disabilities, Faith
Tags: bible study, christian, homeless, jesus, ministry, non-profit, organization
---