Technology Has the Potential to Help Humans Reach Their Potential, Says Brandon Frere
Press Release
-
updated: Jun 13, 2018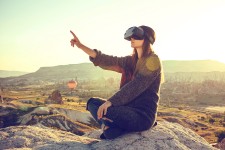 PETALUMA, Calif., June 13, 2018 (Newswire.com) - Running a business, or even just managing a subset of a company, can be difficult. It's important to use tools that not only help with the work but also improve it. That could mean trying out new technology or fully exploring current tools to get the most out of them. Brandon Frere, CEO and successful entrepreneur, recommends that business leaders use their resources to the max potential.
"One of my main goals is to help my employees and peers exceed their expectations, and that same principle can be applied to other resources," said Frere. "For example, technology often has many applications beyond the base offerings, and companies that explore all those offerings might see growth that they didn't originally expect to see."
Managing employees can be a delicate balance between supporting them to complete necessary projects or daily tasks and challenging them to learn and grow in their position. The same can be said of how a company uses technology. It can be easy to stay on a course of minimum usage, taking advantage of only enough features to keep the business running.
One of my main goals is to help my employees and peers exceed their expectations, and that same principle can be applied to other resources.
However, digging into the available technology might uncover some features that can improve other aspects of the business. Business leaders may have access to new marketing or communication methods within the technology they already use. Furthermore, certain employees may volunteer to take part in learning about the new features and take ownership of future initiatives, which can also help them toward their potential.
"Once you start thinking about how to maximize use of resources, you might find that everything is connected," said Brandon Frere. "Using more features in some technology might create pathways for employees to explore new opportunities within the company. That could also help with retention and keeping turnover low. In the end, that all sounds great for business, doesn't it?"
About Frere Enterprises
Brandon Frere is an entrepreneur and businessman who lives in Sonoma County, California. He has designed and created multiple companies to meet the ever-demanding needs of businesses and consumers alike. His company website, www.FrereEnterprises.com, is used as a means to communicate many of the lessons, fundamentals and information he has learned throughout his extensive business and personal endeavors, most recently in advocating on behalf of student loan borrowers nationwide.
As experienced during his own student loan repayment, Mr. Frere found out how difficult it can be to work with federally contracted student loan servicers and the repayment programs designed to help borrowers. Through those efforts, he gained an insider's look into the repayment process and the motivations behind the inflating student loan debt bubble. His knowledge of the confusing landscape of student loan repayment became a vital theme in his future endeavors, and he now uses those experiences to help guide others through the daunting process of applying for available federal repayment and loan forgiveness programs.
FrereEnterprises.com
Source: Frere Enterprises
---
Categories: Entrepreneurship
Tags: entrepreneurship, potential, small business owner
---