Technological Leadership Institute to Sponsor Cyber Security Summit 2018
Press Release
•
updated: Oct 19, 2018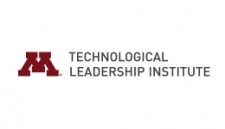 MINNEAPOLIS, October 19, 2018 (Newswire.com) - The University of Minnesota's Technological Leadership Institute (TLI) will once again sponsor this year's Cyber Security Summit, hosted Oct. 22-24 at the Minneapolis Convention Center. TLI is the summit's founding partner and has been a key collaborator as the summit has grown from a small gathering to a regional event to an international conference.
TLI is an interdisciplinary center at the University of Minnesota established in 1987 by an endowment from the Honeywell Foundation. The Institute is one of 12 academic centers affiliated with the College of Science and Engineering, which is ranked among the top engineering and science degree programs in the United States. TLI's mission is to develop local and global leaders for technology-intensive enterprises through its three Master of Science degree programs.
As a leader in Minnesota's high-tech business industry, TLI bridges the knowledge gap between business and technology by taking bright individuals and producing global leaders. It is just such a mission that has made TLI and Cyber Security Summit an enduring match.
Mike Johnson, James J. Renier Chair in the Management of Security Technologies and Director of Graduate Studies for the M.S. in Security Technologies at TLI, summed up the need for a comprehensive business and security education in a recent article:
"Since all decision makers are ultimately risk managers, security leaders need to speak both technology and business in order to bridge the gap and educate those decision makers on cyber issues in the context of the larger business context."
Johnson and other representatives from TLI will be on hand at this year's summit and host a booth in the Expo Area. Attendees are welcome to introduce themselves and ask questions to learn more about the program.
For more information, go to tli.umn.edu.
About Cyber Security Summit
Cyber Security Summit was founded in 2011 to spark a conversation around the topic of security. Since that time, it has annually brought together leaders from industry, government and academic interests to improve the state of cybersecurity. Cyber Security Summit 2018 will be hosted Oct. 22-24 at the Minneapolis Convention Center.
Source: Cyber Security Summit
Related Media
Additional Links