Tech Soft 3D Completes Acquisition of Ceetron AS
Press Release
•
updated: Oct 15, 2020
Acquisition expands the company's CAE offerings to better support programmers building applications for simulation and analysis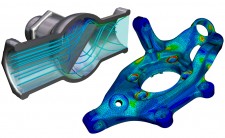 BEND, Ore., October 15, 2020 (Newswire.com) - Tech Soft 3D, the leading provider of engineering software development toolkits, today announces that it has acquired Ceetron AS, experts in developing 3D visualization technology for the computer aided engineering (CAE) community. This acquisition is in line with the company's plans to fuel growth by investing in product development, scaling the company's global reach and increasing its product offerings through acquisitions.
Tech Soft 3D has long been a provider of data access and engineering graphics software development kits (SDKs) to the CAE market, working with partners such as ANSYS, EXA (Dassault Systemes), Altair, Numeca, MathWorks, MapleSoft and CD Adapco (Siemens). Ceetron's market-leading SDKs, which are purpose-built for the visualization of simulation results, expand Tech Soft 3D's SDK portfolio to better support programmers building applications for simulation and analysis targeting both web and desktop environments.
"Ceetron has been fueling innovation in CAE for 20+ years, and Tech Soft 3D is excited to expand its portfolio to better serve our partners in the CAE space," said Tech Soft 3D CEO Ron Fritz. "We remain focused on empowering developers of engineering software to build world-class applications for manufacturing, building and construction and other industries, and the addition of the market-leading Ceetron technologies will help us do that on an even broader scale."
Based in Norway and France, Ceetron offers SDKs to independent software vendors (ISV) in the CAE market for finite element analysis (FEA) and computational fluid dynamics (CFD) data processing and 3D visualization. Their offering includes proven desktop and server-side components to read and process cross-solver CAE data and to create and render CAE visualization models. They also provide modern and mature technology for WebGL-based visualization used for remote sharing and post-processing of CAE models and results. Ceetron SDKs are used by top-tier CAE simulation developers such as Autodesk, ANSYS, Dassault Systèmes, HBM Prenscia, Simscale, DNV GL and Transvalor.
"Our vision has been to enable developers of simulation software everywhere to accelerate their development cycles through the utilization of our 3D visualization development kits," said Tor Helge Hansen, Managing Director of Ceetron. "Joining forces with Tech Soft 3D accelerates that vision because, in more ways than just technology, Tech Soft 3D is our twin. Together, we are excited to explore the opportunities that will be unleashed from this collaboration."
"Over the coming months, we'll be working to integrate Ceetron's technology with our HOOPS toolkits," said Gavin Bridgeman, CTO at Tech Soft 3D. "This acquisition is about making the HOOPS platform more attractive to a broader set of users in the engineering software world by enabling them to do everything they need to do with their CAD data. As a component provider, there's some important things to do to support the innovation that's happening in this space."
Tech Soft 3D intends to continue to maintain and support Ceetron's existing partners that are using its market-leading SDK offerings for CAE. Tech Soft 3D will retain Ceetron's staff, who will continue to support Ceetron customers and partners. Through this acquisition, Tech Soft 3D now has an office in Norway. Details of the acquisition are not disclosed. Tech Soft 3D is backed by investment firm Battery Ventures.
About Tech Soft 3D
Tech Soft 3D is the leading global provider of development tools that help software teams deliver successful applications. Established in 1996 and headquartered in Bend, Oregon, Tech Soft 3D also has offices in California, France, England, Japan and Norway. The company's toolkit products power more than 500 unique applications running on hundreds of millions of computers worldwide. For more information, visit www.techsoft3d.com.
HOOPS is a registered trademark of Tech Soft 3D. All other products or company references are the property of their respective holders.
Media Contact: Angela Simoes, angela@techsoft3d.com, 415-302-2934
Source: Tech Soft 3D