Taking the Future on the Road: Global Futurist to Speak at Eleven Events This Month
Best-Selling Author Jack Uldrich to share his insights on future trends in a variety of industries in March, including construction, real estate, insurance, financial services, legal services, and urban design
Press Release
-
updated: Mar 1, 2018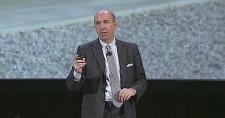 Minneapolis, MN, March 1, 2018 (Newswire.com) - Futurist Jack Uldrich begins another busy month in Minneapolis today where he will be speaking to leaders with Knutson Construction. His remaining March events will be held in cities across the country, including Boise, ID, Chicago, IL, Portland, OR, and Hollywood, FL. He will end the month in Philadelphia, PA, where he will be speaking at an event for NAI Global. 
Uldrich, who is the founder of The School of Unlearning, dedicates himself to helping businesses, governments, and nonprofit organizations prepare for and profit from periods of profound transformation.
Uldrich says: "New advances in technology bring forth exciting discoveries every day. But often lost in this new reality is the fact that organizations must unlearn old, obsolete knowledge and old ways of doing business before they can seize tomorrow's opportunities." 
To help leaders in a variety of industries spot trends and opportunities for the coming year, Uldrich annually publishes a list "game-changers." His new list for 2018 can be found here. 
Uldrich's speaking engagements this month include:
March 1: Future Trends in Construction - Knutson Construction - Minneapolis, MN
March 6: Future Trends in Real Estate & Commercial Development - Idaho Housing and Finance Association - Boise, ID
March 7: Future Trends in Law - Kirkland & Ellis - Chicago, IL
March 13: Future Trends in Insurance/Financial Services - Thrivent - Minneapolis, MN
March 14: Future Trends & Economic Development - John Wood Community College - Quincy, IL
March 15: Future Trends in Business - Vintage - Boise, ID
March 19: Future Trends in Financial Services and Investment - American Council of Life Insurers - Sea Island, GA
March 22: Future Trends in Urban Design - Design-Build Institute of America - Portland, OR
March 26: Future Trends for CIO's - Gartner Leadership Forum - Hollywood, FL
March  27: Future Trends in Construction - Association of the Wall and Ceiling Industry (AWCI) - Orlando, FL
March 28: The Future Demands Unlearning - NAI Global - Philadelphia, PA
A prolific speaker with more than 100 speaking engagements per year, Uldrich has delivered keynotes to organizations as diverse as Tech Mahindra, the American Public Power Association, the National Association of Manufacturers, Verizon, Farm Credit Service, IBM, Cisco, Siemens, and the International Card Manufacturers Association. 
To learn more about Uldrich, his books, his blog, or his speaking availability please visit his JackUldrich.com. 
Source: Jack Uldrich & The School of Unlearning
Share:
---
Categories: Corporate Officers, Economy, Construction, Legal Services, Financial and Insurance Services
Tags: construction, emerging trends, financial services, insurance, Jack Uldrich, keynote, legal services, real estate, urban design
---