Tab32 Announces the Release of Open Data Warehouse for DSOs
Press Release
•
updated: Nov 18, 2020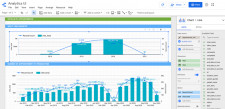 SACRAMENTO, Calif., November 18, 2020 (Newswire.com) - tab32 is a cloud-based dental software. With their patient-first approach to technology, in 2016, the company was the first to bring a complete solution dental practice management software to the market. Features that would regularly require third-party vendors such as two-way texting, radiology, claims & attachment management, online patient forms and appointment booking, among many other things, were fully integrated with the practice management and electronic health records software.
tab32 continues to lead in technology and the dental industry. They strike again with another first-to-market innovation, Open Data WarehouseTM (ODWTM) and SQL Analytics features. A service for Enterprise DSOs, also known as dental service organizations, that makes it easier to run their standard SQL queries directly on data lakes.
This new Open Data Warehouse offers SQL Business Intelligence Analytics as well as data science and machine learning features. The SQL Analytics enables a dental organization to directly and concretely do the data warehousing workloads and the Business Intelligence (BI) and reporting workloads, directly on the data lake. With Machine Learning (ML) using familiar SQL Queries, data analysts can quickly develop and validate the ML models.
This new service makes using traditional data analyst use cases (BI) and the data science workloads (AI) cheaper and simple. It sits on top of an optimized version of GCP Big Query to enable quick completion of queries. In addition, ODWTM Data Lake performs well under high workloads by providing auto-scaling endpoints to keep the query latency consistent.
ODWTM service is optimized for Enterprise DSOs to use it with each of their patient databases, per location individually or for all locations, aggregated. The service will provide comprehensive business intelligence reports for executive teams, regional or within location teams.
Further, the ODWTM service can determine better business and clinical care outcomes with the use of SQL Analytics to develop Machine Learning models across multiple locations with large data sets. Queries, such as if a patient will show up for an appointment or if a patient will comply with a treatment plan, could be answered.
tab32 products sit on Google's truly cloud-based infrastructure and are developed within Google's technology stack. It is the #1, voted by customers, cloud dental software!
Source: tab32
Tags
Additional Links