T.E.N. Announces Winners of the 2020 ISE® West Awards
Press Release
•
updated: Aug 21, 2020
Dan Meacham of Legendary Entertainment and ServiceTitan Claims Top Awards.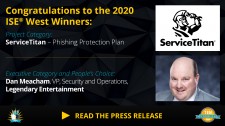 ATLANTA, August 21, 2020 (Newswire.com) - T.E.N., a technology and information security executive networking and relationship-marketing firm, honored finalists and winners Thursday, August 20, for the 2020 ISE® West Executive Forum and Awards Gala held online.
Dan Meacham, VP, Security and Operations, Legendary Entertainment, was selected as the Information Security Executive® of the Year Award winner for ISE® West.
Leveraging over 20 years of technology leadership, Meacham pushes the edge of industry standards through the creation of new frameworks such as his Managed Information Security Architecture model, which led to a national healthcare security standard in 2001, and his recent CSO50 2020 Award for creating the first User-Centric Security Architecture at Legendary Entertainment. As VP, reporting directly to Legendary's CEO, Meacham oversees all technology security and risk management as well as content protection.
Meacham was also honored during the event as the 2020 ISE® West People's Choice Award winner. This award represents the nominee who best exemplifies information security leadership as voted on by their peers in information security.
ServiceTitan's "Phishing Protection Plan" was honored as the ISE® West Projects of the Year Winner.
The Phishing Protection Plan is a multifaceted and innovative program enacted to protect the business and raise employee awareness about fraudulent attempts to obtain sensitive information. Phishing Protection Plan reinvented how ServiceTitan employees participate in phishing tests, completely redesigned company training, brought a renowned social engineer to test their process, and enhanced automated defense with state-of-the-art services.
"Our nominees are incredible leaders and influencers who have impacted how our security industry has grown and remained ever-successful at the turn of this new decade," said T.E.N. CEO and President Marci McCarthy.
A full list of nominees can be found on the T.E.N. website:
Executive: https://www.ten-inc.com/ise/West/exec_nominees.asp
Project: https://www.ten-inc.com/ise/West/project_nominees.asp
The ISE® West Awards recognize information security executives and projects for achievements in the industry. Award winners were selected from the West region, which includes Alaska, Arizona, California, Colorado, Hawaii, Idaho, Montana, Nevada, New Mexico, Oregon, Utah, Washington and Wyoming.
Event made possible by Kilobyte Sponsors: Code42 and Qualys; and Supporting Sponsors: Beyond Identity, ShieldX, Splunk, and XM Cyber.
Learn more online: https://www.ten-inc.com/ise/West/sponsors.asp
About ISE® Award Program Series
The Information Security Executive® (ISE®) of the Year Award Program Series has empowered security executives and their project teams to Connect, Collaborate, and Celebrate for nearly two decades. The program series is comprised of five events—ISE® West, ISE® Central, ISE® West and ISE® Northeast at the regional level and ISE® North America at the national level—and has become the most prestigious and anticipated IT Security award program for security executives and their project teams. Winners have included executives and project teams from leading organizations such as Aflac, AmerisourceBergen, Baxter International, Comcast, Cox Communications, Darden Restaurants, Emory University, Georgia Department of Revenue, Mastercard, Morningstar Inc, PACCAR, Purdue University, Regeneron Pharmaceuticals, Relativity, San Bernardino County Superintendent of Schools, Skechers USA, T-Mobile and Woodforest National Bank.
Source: T.E.N.