T.E.N. Announces Winners of the 2020 ISE® Northeast Awards
Press Release
•
updated: Oct 7, 2020
Mike Towers of Takeda Pharmaceuticals, Joseph Tso of Scotiabank U.S., and Refinitiv Claim Top Awards.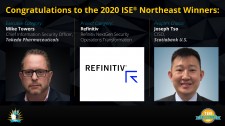 ATLANTA, October 7, 2020 (Newswire.com) - T.E.N., a technology and information security executive networking and relationship-marketing firm, honored finalists and winners Tuesday, October 6, for the 2020 ISE® Northeast Executive Forum and Awards Gala held as an online experience.
Mike Towers, Chief Information Security Officer, Takeda Pharmaceuticals was honored as Information Security Executive® of the Year Award winner for ISE® Northeast.
Mike partners with business leadership to prioritize the protection of critical information and technology assets, continually balancing control and tolerance within the digital experience. He is accountable for the strategy, implementation and monitoring of the controls necessary to mitigate security risks and to assure the confidentiality, availability and integrity of Takeda's data.
Joseph Tso, CISO of Scotiabank U.S., was honored as the 2020 ISE® Northeast People's Choice Award winner. This award represents the nominee who best exemplifies leadership as voted on by their peers in information security.
Refinitiv's "NextGen Security Operations Transformation" was named ISE® Northeast Project of the Year Winner.
In October 2018, Thomson Reuters divested Refinitiv with Blackstone which split the cybersecurity function and resulted in coverage gaps for both companies. Refinitiv's Head of Security Operations led the NextGen Security Operations Transformation Program to rapidly build and enhance Refinitiv's solutions and capabilities. Refinitiv established a robust Cybersecurity Operations function, building 3 global SOCs, and maturing capabilities across Security Monitoring, Incident Response, Digital Forensics, Offensive Security, Threat Detection, Vulnerability Management, Data Loss Prevention, and Cyber Threat Intelligence.
"Our nominees are incredible leaders and influencers who have impacted how our industry has grown and remained ever-successful," said T.E.N. CEO and President Marci McCarthy. "We are honored to have them join the ranks of distinguished ISE® Alumni."
A full list of nominees can be found on the T.E.N. website:
Executive: https://www.ten-inc.com/ise/Northeast/exec_nominees.asp
Project: https://www.ten-inc.com/ise/Northeast/project_nominees.asp
The ISE® Northeast Awards recognizes executives and projects for achievements in the industry. Award winners were selected from the U.S. Northeast region.
Event made possible by our Exabyte Sponsor: Qualys; Kilobyte Sponsors: Blackberry Cylance, Code42, Ionic Security and Splunk; and Supporting Sponsors: Beyond Identity, Netskope, Saltworks Security, Secureworks, ShieldX and XM Cyber.
Learn more: https://www.ten-inc.com/ise/Northeast/sponsors.asp
About ISE® Award Program Series
The Information Security Executive® (ISE®) of the Year Award Program Series has empowered security executives and their project teams to Connect, Collaborate, and Celebrate for nearly two decades. The program series is comprised of five events—ISE® Northeast, ISE® Northeast, ISE® Northeast and ISE® Northeast at the regional level and ISE® North America at the national level—and has become the most prestigious and anticipated IT Security award program for security executives and their project teams. Winners have included executives and project teams from leading organizations such as Aflac, AmerisourceBergen, Baxter International, Comcast, Cox Communications, Darden Restaurants, Emory University, Georgia Department of Revenue, Mastercard, Morningstar Inc, PACCAR, Purdue University, Regeneron Pharmaceuticals, Relativity, San Bernardino County Superintendent of Schools, Skechers USA, T-Mobile and Woodforest National Bank.
Source: T.E.N.