T.E.N. Announces Winners of the 2020 ISE® Southeast Awards
Press Release
•
updated: Mar 12, 2020
Andrew Bjerken of Catalina and Catalina's Project Claim Top Awards.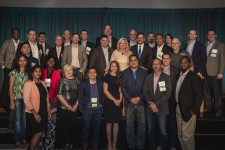 ATLANTA, March 12, 2020 (Newswire.com) - T.E.N., a technology and information security executive networking and relationship-marketing firm, honored finalists and winners Wednesday evening, March 11, at the 2020 ISE® Southeast Executive Forum and Awards Gala at the Westin Peachtree Downtown in Atlanta, GA.
Andrew Bjerken, Global Chief Information Security & Privacy Officer of Catalina, was selected as the Information Security Executive® of the Year Award winner for ISE® Southeast.
In his current role, Bjerken is responsible for all aspects of information security, cybersecurity, data governance, and privacy. This includes SECOPs, security architecture, vulnerability management, risk management, data governance, data quality, identity and access management, investigations, and privacy. Bjerken has 18+ years of experience across multiple industries and began his career as an officer with the U.S. Air Force.
Bjerken was also honored as the 2020 ISE® Southeast People's Choice Award winner. This award represents the nominee who best exemplifies information security leadership as voted on by their peers in information security.
Catalina's "Cynet Comp Controls" was declared the ISE® Southeast Projects of the Year Winner.
Catalina maintains appliances in 45,000+ stores worldwide across 325+ retailer networks. These appliances enable one of Catalina's primary revenue streams and must remain compliant to continue to operate. Catalina launched the Retailer Awards Compliance project to achieve ongoing and demonstrable compliance. The successful implementation included global coordination for individualized rollout plans for each retailer.
"Our nominees are incredible leaders and influencers who have impacted how our security industry has grown and remained successful at the turn of this new decade," said T.E.N. CEO and President Marci McCarthy. "We are honored to have them join the ranks of distinguished ISE® Alumni."
A list of nominees can be found on T.E.N.'s website:
Executive: https://www.ten-inc.com/ise/Southeast/exec_nominees.asp
Project: https://www.ten-inc.com/ise/Southeast/project_nominees.asp
The event is made possible by Exabyte Sponsor: IronNet Cybersecurity; Kilobyte Sponsors: Area 1 Security, BeyondTrust, Cisco Umbrella, Code42, CyCognito, Digital Guardian, LookingGlass Cyber Solutions, Qualys, Revolutionary Security, Tanium and ZeroFOX; Display Sponsors: BitSight Technologies, Cyberbit, Forescout Technologies (partnering with CyberArk), Saltworks Security, ShieldX and Splunk; and Association Sponsor: ISSA Metro Atlanta Chapter.
Learn more online: https://www.ten-inc.com/ise/Southeast/sponsors.asp.
About ISE® Award Program Series
The Information Security Executive® (ISE®) of the Year Award Program Series has empowered security executives and their project teams to Connect, Collaborate, and Celebrate for nearly two decades. The program series is comprised of five events—ISE® Southeast, ISE® Central, ISE® West and ISE® Northeast at the regional level and ISE® North America at the national level—and has become the most prestigious and anticipated IT Security award program for security executives and their project teams. Winners have included executives and project teams from leading organizations such as Aflac, AmerisourceBergen, Baxter International, Comcast, Cox Communications, Darden Restaurants, Emory University, Georgia Department of Revenue, Mastercard, Morningstar Inc, PACCAR, Purdue University, Regeneron Pharmaceuticals, Relativity, San Bernardino County Superintendent of Schools, Skechers USA, T-Mobile and Woodforest National Bank.
Source: T.E.N.