T.E.N. Announces Winners of the 2019 ISE® West Awards
Press Release
•
updated: Aug 23, 2019
Aura Moore of Los Angeles World Airports and T-Mobile Claim Top Awards. Brett Cumming of Skechers USA Named People's Choice Award Winner.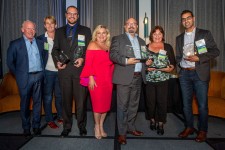 ATLANTA, August 23, 2019 (Newswire.com) - ​T.E.N., a technology and information security executive networking and relationship-marketing firm, honored finalists and winners Thursday evening, August 22, at the 2019 ISE® West Executive Forum and Awards Gala at the Westin St. Francis in San Francisco, California.
Aura Moore, the Chief Information Officer for Los Angeles World Airports, was selected as the Information Security Executive® of the Year Award winner for the ISE® West Region.
Aura Moore was appointed Deputy Executive Director and Chief Information Officer (CIO) for Los Angeles World Airports (LAWA) in July 2016. She oversees day-to-day Information Technology operations and serves as top technology infrastructure and systems leader for LAWA's three airports: Los Angeles International (LAX), LA/Ontario International, and Van Nuys general aviation. Moore draws from a public service career of over 20 years at agencies throughout the City of Los Angeles. Her previous positions with LAWA included Network Infrastructure Program Manager, IT Project Management Director and CIO. As CIO, Moore created the Office of Airport Technology and Business Systems, a group tasked with strengthening LAWA's security, business and airport operations through efficiently delivering large-scale airport technology projects. Within her role as CIO, she expanded her focus to enhancing the guest experience through implementing self-service technologies and establishing partnerships designed to improve passenger processing. Moore is credited with modernizing technology infrastructure throughout the LAX campus, where she consolidated surveillance systems and expanded coverage for enhanced security and safety. She also worked to replace manual processes with new systems that have improved airport operational efficiencies.
Brett Cumming, Director, Information Security Officer with Skechers USA, was honored during the event as the 2019 ISE® West People's Choice Award winner. This award represents the nominee who best exemplifies information security leadership as voted on by their peers in information security.
T-Mobile's "Identify, Credential, and Access Management (ICAM)" Project received the honor of being chosen as the ISE® West Projects of the Year.
​Dwaine Omyer, Vice President of Digital Security for T-Mobile, accepted their award on behalf of the project. ICAM provides technology leadership, guidance, and governance for identity management products and capabilities at T-Mobile. Critical business objectives include identity management maturity, scalability, technology rationalization, operational effectiveness, and cost savings through a common strong-authentication customer experience. ICAM empowers identity risk through strong management controls, authentication, privileged access management, and access governance. The project implements an Un-carrier approach to digital security through the integration of all enterprise platforms to centralize identity controls. This allows toolset rationalization and expanded identity access management (IAM) capabilities, ensuring full utilization of key technology platforms.
"This year, our executive and project nominees were some of the most incredible leaders and influencers that our judges have ever seen," said T.E.N. CEO and President Marci McCarthy. "Each of these executives and project teams exhibits the drive, passion, and dedication to Information Security that the ISE® Awards represent. We are honored to have each and every one of them join the ranks of our distinguished ISE® Alumni."
A full list of nominees can be found on the T.E.N. website:
The ISE® West Awards recognize both information security executives and projects for outstanding achievements in risk management, data asset protection, compliance, privacy and network security. Award winners were selected from the U.S. West region, which includes Alaska, Arizona, California, Colorado, Hawaii, Idaho, Montana, Nevada, New Mexico, Oregon, Utah, Washington and Wyoming.
The event is made possible by our Kilobyte Sponsors: Aruba, A Hewlett Packard Enterprise Company, BlackBerry Cylance, Contrast Security, Digital Hands, Lastline, Netskope and Protegrity; and our Display Sponsors: Endgame, Entrust Datacard, Secureworks, ServiceNow and Splunk.
Learn more online: https://www.ten-inc.com/ise/west/sponsors.asp.
About T.E.N.
T.E.N., a national technology and security executive marketing and networking organization, facilitates peer-to-peer relationships between top executives, industry visionaries and solution-providers in the cybersecurity industry. Nominated for numerous industry awards, T.E.N.'s executive leadership programs enable information exchange, collaboration and decision-making opportunities for Information Security Executives and cybersecurity solution providers alike. Its flagship program, the nationally-acclaimed Information Security Executive® (ISE®) of the Year Program Series and Awards, is North America's largest leadership recognition and networking program for security professionals. In addition, T.E.N. offers the ISE® Lions' Den and Jungle Lounge, wherein emerging cybersecurity companies have the opportunity to showcase their solutions to major security executives in a competitive rapid-fire event. T.E.N. also delivers ISE® Private Dinners across 48 major cities throughout the U.S. and Canada to create even more opportunities for Information Security Executives, professionals and security solution providers to Connect, Collaborate, and Celebrate.
About ISE® Award Program Series
For more than a decade, the Information Security Executive® (ISE®) of the Year Award Program Series has empowered security executives and their project teams to Connect, Collaborate, and Celebrate. Recognized as the industry's most prestigious IT Security award program, it has become the most anticipated award program for security executives and their project teams. Winners have included executives and project teams from leading organizations such as Aetna, AIG, AT&T, Bank of America, Comcast, Cox Automotive, HMS, Jabil, NCR, PayPal, SunTrust and VISA.
Our distinguished ISE® Judges are past nominees representing a cross-section of industries, including commercial, government, healthcare and academic sectors. For this reason, the ISE® Awards represent the best achievements of the year as evaluated by those regarded as the industry's most influential and successful thought leaders. Coupled with a one or two-day executive summit, the ISE® Awards are held across the country and Canada in major cities including Atlanta, Chicago, Dallas, New York, and San Francisco. The ISE® Awards Program Series has reached more than 10,000 executives across a broad range of industries and has been a major influence in executives' careers, knowledge sharing, and the development of peer-to-peer relationships.
Source: T.E.N.