T.E.N. Announces Winners of the 2019 ISE® Northeast Awards
Press Release
•
updated: Oct 4, 2019
Mark Leary of Regeneron Pharmaceuticals and AmerisourceBergen Claim Top Awards. Umesh Yerram of AmerisourceBergen Named People's Choice Award Winner.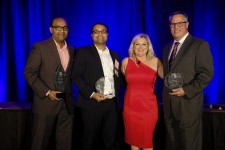 ATLANTA, October 4, 2019 (Newswire.com) - T.E.N., a technology and information security executive networking and relationship-marketing firm, honored finalists and winners Thursday evening, Oct. 3, at the 2019 ISE® Northeast Executive Forum and Awards Gala at the Westin Times Square in New York City, NY.
Mark Leary, the CISO for Regeneron Pharmaceuticals, was selected as the Information Security Executive® of the Year Award winner for the ISE® Northeast Region.
A successful Global Chief Information Security Officer and Technology Business Leader in public and private sectors, Mark has held successive positions of corporate oversight for international Fortune 200 firms in Defense, Aerospace, Manufacturing, IT Services, Business Process Outsourcing, Biotechnology, and Life Sciences markets. As Regeneron's first CISO, Mark is tasked with the formulation, implementation and execution of the corporate information and cyber security strategy, program and organization to protect the company's intellectual property and assets. Previous to Regeneron, Mark has performed in information security leadership roles with companies such as Conduent, Xerox, TASC and Northrop Grumman and is a US Amy veteran with 22 years in Military Intelligence. Mark holds a Doctorate from University of Maryland, MBA from George Mason University, dual Master's degree from Webster University and a Bachelor's in Russian Language from SUNY Albany. He also possesses several board-certified, industry-related certifications. Mark is a frequent speaker at industry events and a published author.
Umesh Yerram, VP, Chief Data Protection Officer with AmerisourceBergen, was honored during the event as the 2019 ISE® Northeast People's Choice Award winner. This award represents the nominee who best exemplifies information security leadership as voted on by their peers in information security.
​AmerisourceBergen's "Project Omniscient Eye – Data Protection" received the honor of being chosen as the ISE® Northeast Project of the Year.
While cloud computing has allowed businesses to be more flexible and agile, data protection has been the biggest challenge. Especially for AmerisourceBergen (ABC) that houses confidential and, in some cases, intimate data like health information, any unauthorized disclosure could not only have financial impacts, but more importantly, have undesired life-altering impact to patients. Omniscient Eye is a one-of-a-kind project that discovers and classifies 2 million protected documents of ABCs confidential data, provides visibility to the 3TB of cloud data including 3,000 cloud services, and ensures protection to 8 billion PHI records through data masking and encryption solutions. It doesn't matter what you are doing, AmerisourceBergen have their omniscient eyes on you.
"This year, our executive and project nominees were some of the most incredible leaders and influencers that our judges have ever seen," said T.E.N. CEO and President Marci McCarthy. "Each of these executives and project teams exhibits the drive, passion, and dedication to Information Security that the ISE® Awards represent. We are honored to have each and every one of them join the ranks of our distinguished ISE® Alumni."
A full list of nominees can be found on the T.E.N. website:
Executive: https://www.ten-inc.com/ise/northeast/exec_nominees.asp.
Project: https://www.ten-inc.com/ise/northeast/project_nominees.asp.
The ISE® Northeast Awards recognize both information security executives and projects for outstanding achievements in risk management, data asset protection, compliance, privacy and network security. Award winners were selected from the U.S. Northeast region, which includes Connecticut, Delaware, Maine, Massachusetts, New Hampshire, New Jersey, New York, Pennsylvania, Rhode Island, Vermont and Washington D.C.
The event is made possible by our Exabyte Sponsor: Qualys; our Kilobyte Sponsors: Capgemini, Cisco, Digital Hands, ExtraHop, Splunk and Tanium; our Display Sponsors: OneTrust, Protegrity, Respond Software, SafeBreach, Saltworks Security, Secureworks, ServiceNow and ShieldX; and our Media Sponsor: NY Information Security Meetup.
Learn more online: https://www.ten-inc.com/ise/northeast/sponsors.asp.
About T.E.N.
T.E.N., a national technology and security executive marketing and networking organization, facilitates peer-to-peer relationships between top executives, industry visionaries and solution-providers in the cybersecurity industry. Nominated for numerous industry awards, T.E.N.'s executive leadership programs enable information exchange, collaboration and decision-making opportunities for Information Security Executives and cybersecurity solution providers alike. Its flagship program, the nationally-acclaimed Information Security Executive® (ISE®) of the Year Program Series and Awards, is North America's largest leadership recognition and networking program for security professionals. In addition, T.E.N. offers the ISE® Lions' Den and Jungle Lounge, wherein emerging cybersecurity companies have the opportunity to showcase their solutions to major security executives in a competitive rapid-fire event. T.E.N. also delivers ISE® Private Dinners across 48 major cities throughout the U.S. and Canada to create even more opportunities for Information Security Executives, professionals and security solution providers to Connect, Collaborate, and Celebrate.
About ISE® Award Program Series
For more than a decade, the Information Security Executive® (ISE®) of the Year Award Program Series has empowered security executives and their project teams to Connect, Collaborate, and Celebrate. Recognized as the industry's most prestigious IT Security award program, it has become the most anticipated award program for security executives and their project teams. Winners have included executives and project teams from leading organizations such as Aetna, AIG, AT&T, Bank of America, Comcast, Cox Automotive, HMS, Jabil, NCR, PayPal, SunTrust and VISA.
Our distinguished ISE® Judges are past nominees representing a cross-section of industries, including commercial, government, healthcare and academic sectors. For this reason, the ISE® Awards represent the best achievements of the year as evaluated by those regarded as the industry's most influential and successful thought leaders. Coupled with a one or two-day executive summit, the ISE® Awards are held across the country and Canada in major cities including Atlanta, Chicago, Dallas, New York, and San Francisco. The ISE® Awards Program Series has reached more than 10,000 executives across a broad range of industries and has been a major influence in executives' careers, knowledge sharing, and the development of peer-to-peer relationships.
Source: T.E.N.