T.E.N. Announces Winners of the 2017 ISE® Northeast Executive Forum and Awards
Press Release
•
updated: Oct 12, 2017
Rohan Amin of JPMorgan Chase & Co, Brian DiPietro of MUFG Union Bank, N.A. and Cyber Value at Risk Project From Comcast Claim Top Awards. Rohan Amin Named People's Choice Award Winner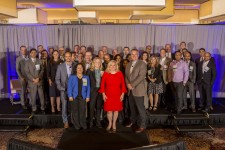 NEW YORK, October 12, 2017 (Newswire.com) - T.E.N., a technology and information security executive networking and relationship-marketing firm, honored finalists and winners Wednesday evening, Oct. 11, at the 2017 ISE® Northeast Executive Forum and Awards Gala at the Westin Times Square in New York City, New York.
Rohan Amin, Global CISO of JPMorgan Chase & Co and Brian DiPietro, Managing Director, CISO of MUFG Union Bank, N.A. were selected as the Information Security Executive® of the Year Award winners for the ISE® Northeast Region.
Rohan leads the team that protects the firm and its customers, clients, employees and partners from cybersecurity threats. He is a member of the firm's Global Technology Operating Committee (GTOC). Within the industry, he is on the managing Board of Directors for the Financial Services Information Sharing and Analysis Center (FS-ISAC) and he is the Chair of the Board for the Financial Systemic Analysis and Resilience Center (FSARC). Within the defense industry, he was instrumental in establishing the Defense Security Information Exchange (DSIE), a cyber threat fusion and sharing forum between major defense industrial base partners. Rohan also co-authored the seminal paper on Intelligence Driven Defense and the Cyber Kill Chain – which introduced the world to new analytical tradecraft for combating Advanced Persistent Threats.
Brian is responsible for establishing and maintaining the enterprise vision, strategy and program to better protect the company's information assets and technologies. He is also responsible for directing staff in identifying, developing, implementing, and maintaining processes across the Americas to reduce information and cybersecurity risks. He is also accountable for responding to incidents, establishing appropriate standards and controls, managing security technologies, and the establishment and implementation of policies and procedures. Brian is also a CISSP certified and is an inaugural board member of the Payment Card Industry Board of Advisors.
Rohan was also honored during the event as the 2017 ISE® Northeast People's Choice Award winner. This award represents the nominee who best exemplifies information security leadership as voted on by his peers in information security.
Comcast's "Cyber Value at Risk" project was selected as the ISE® Northeast Project of the Year. Chuck Hudson, Executive Director, for Comcast accepted on behalf of the project.
Comcast's Cyber Value at Risk program, executed using Bay Dynamics' Risk Fabric platform, has enabled the company to continuously protect its most valued assets by quantifying the impact of cyber risk based on actual threat and vulnerability data in the environment, and then prioritizing mitigation actions based on those activities that directly address the established risks. The platform automatically delivers relevant threat and vulnerability information to an array of stakeholders responsible for the involved mitigation and continuously measures how much risk is being reduced due to the actions taken.
"Our judges were very impressed by this year's selection of high-caliber executive and project nominees," said T.E.N. CEO and President Marci McCarthy. "Each of these executives and project teams exhibits the drive, passion, and dedication to Information Security for which the ISE® Awards stand and we are honored to have each and every one of them join the ranks of our distinguished ISE® Alumni."
Full list of nominees can be found on the T.E.N. website:
Executive: http://www.ten-inc.com/ise/northeast/exec_nominees.asp
Project: http://www.ten-inc.com/ise/northeast/project_nominees.asp
The ISE® Northeast Awards recognize both information security executives and projects for outstanding achievements in risk management, data asset protection, compliance, privacy and network security. Award winners were selected from the U.S. Northeast region, which includes Connecticut, Delaware, Maine, Massachusetts, New Hampshire, New Jersey, New York, Pennsylvania, Rhode Island, Vermont and Washington DC.
The event is made possible by kilobyte sponsors: Attivo Networks, Bay Dynamics, Centrify, Cisco, Contrast Security, Infoblox, Interset, Leidos, NSS Labs, PhishMe, ProtectWise, Splunk, and Symantec and display sponsors: AlgoSec, CloudPassage, Cyberint, Cymmetria, Fortress Information Security, ReliaQuest, SAI Global, ServiceNow, Tufin, and ZeroFOX. Learn more online: http://www.ten-inc.com/ise/northeast/sponsors.asp
About T.E.N.
T.E.N., a national technology and security executive marketing and networking organization, facilitates peer-to-peer relationships between top executives, industry visionaries and solutions providers in the cybersecurity industry. Nominated for numerous industry awards, T.E.N.'s executive leadership programs enable information exchange, collaboration and decision-making opportunities for Information Security Executives and cybersecurity solution providers alike. Its flagship program, the nationally-acclaimed Information Security Executive® (ISE®) of the Year Program Series and Awards, is North America's largest leadership recognition and networking program for security professionals. T.E.N. delivers ISE® Private Dinners across 42 major cities throughout the U.S. and Canada to create even more opportunities for Information Security Executives, professionals and security solution providers to Connect, Collaborate, and Celebrate.
About ISE® Award Program Series
For more than a decade, the Information Security Executive® (ISE®) of the Year Award Program Series has empowered security executives and their project teams to Connect, Collaborate and Celebrate. Recognized as the industry's most prestigious IT Security award program, it has become the most anticipated award program for security executives and their project teams. Winners have included executives and project teams from leading organizations such as Aetna, AT&T, Bank of America, Comcast, Cox Automotive, Ellie Mae, Equifax, HMS, Jabil, PayPal, and SunTrust.
Our distinguished ISE® Judges are past nominees representing a cross-section of industries, including commercial, government, health care and academic sectors. For this reason, the ISE® Awards represent the best achievements of the year as evaluated by those regarded as the industry's most influential and successful thought leaders. Coupled with a one or two-day executive summit, the ISE® Awards are held across the country and Canada in major cities including Atlanta, Chicago, Dallas, New York and San Francisco. The ISE® Awards Program Series has reached more than 10,000 executives across a broad range of industries and has been a major influence in executives' careers, knowledge sharing, and the development of peer-to-peer relationships.
Source: T.E.N.
Related Media