T.E.N. Announces 2017 Information Security Executive® (ISE®) Southeast Awards Nominees
Executive and Project Category Awards Announced at ISE® Southeast Executive Forum and Awards Gala on March 14, 2017
Press Release
-
updated: Feb 2, 2017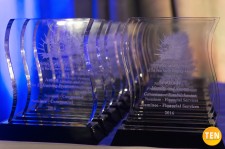 Atlanta, Georgia, January 31, 2017 (Newswire.com) - T.E.N., a technology and information security executive networking and relationship-marketing firm, announced today the nominees for the 2017 Information Security Executive Southeast Awards. Executives include top-ranking decision makers representing organizations in financial services, commercial, health care, government and academics. Projects include large-scale technology endeavors that address key issues in the information security industry.
Executive Nominees
- Craig Froelich, Chief Information Security Officer of Bank of America
- Joseph Johnson, Chief Information Security Officer of Premise Health
- Michael Mangold, Vice President, Information Security of Tractor Supply Company
- Dave Summitt, Chief Information Security Officer of Moffitt Cancer Center
Project Nominees
- Aflac, Aflac Deception Project
- Aflac, Threat Intelligence System (TIS)
- Bank of America, Bank of America's Identity and Access Management (IAM) Transformation Program
- Children's Healthcare of Atlanta, Payment Card Security Project
- Georgia Department of Revenue, The DOR APT Project
- The Home Depot Inc, Home Depot Deception Project
- Macy's Systems and Technology, Active Threat Monitoring and Response
- Moffitt Cancer Center, Moffitt Security Operations Center (SOC)
- NCR Corporation, Global Information Security Awareness Program (Communications & Training)
- Technical College System of Georgia, NextGen Cybersecurity
- University Health Care System, Identity & Access Management System Implementation

Full project descriptions can be found online: 
http://www.ten-inc.com/ise/southeast/project_nominees.asp
"The ISE® Southeast Awards offer cybersecurity professionals the opportunity to connect with their peers, collaborate with some of the finest minds helming leading security programs, and celebrate the hard earned achievements and progress they have made in the realm of Information Security. As the role of security executives has become more critical than ever, it is vital that these security professionals have a network of peers to interact with, exchange thoughts on best practices, and work together on innovative ways to make our industry even more robust and forward-thinking," said Marci McCarthy, CEO and President of T.E.N.The ISE® Southeast Awards recognize executives and projects, which have made a positive impact on their organizations through risk management, data-asset protection, regulatory compliance, privacy, and information security. Nominations are sent to T.E.N.'s distinguished panel of ISE® Judges for review and scoring.
This year's ISE® Southeast Judges include: 
Phil Agcaoili, SVP & Chief Information Security Officer of Elavon, Inc.
Connie Barrera, Director Info Assurance and Chief Information Security Officer of Jackson Health System
Haddon Bennett, Chief Information Security Officer of Change Healthcare
John Graham, Chief Information Security Officer of Jabil
Renee Guttmann-Stark, Chief Information Security Officer of Royal Caribbean Cruise Lines
David Rooker, Chief Security Officer of Actian Corporation
Brad Sanford, Chief Information Security Officer of Emory University
Tony Spurlin, VP and CSO for Earthlink
All nominees will be recognized at the ISE® Southeast Executive Forum and Awards on March 14, 2017 at the Westin Peachtree Plaza Downtown in Atlanta, GA. Event attendees can earn up to 5 CPEs for participating in the event, which will offer dynamic presentations and engaging roundtable discussions—lead by ISE® Alumni—highlighting a spectrum of the industry's most critical issues and innovative best practices. Finalists and winners are announced at the awards gala that evening and recognized through press coverage and inclusion on the T.E.N. website. 
The event is made possible by kilobyte sponsors: Attivo Networks, Digital Guardian, Fidelis Cybersecurity, PhishMe and Splunk; and display sponsors: Cybereason, Optiv, Tanium, and Varonis.
For more information, visit http://www.ten-inc.com/ise/southeast/default.asp
About T.E.N. 
T.E.N., a national technology and security executive marketing and networking organization, facilitates peer-to-peer relationships between top executives, industry visionaries and solutions providers in the cyber security industry. Nominated for numerous industry awards, T.E.N.'s executive leadership programs enable information exchange, collaboration and decision-making opportunities for Information Security Executives and cyber security solution providers alike. Its flagship program, the nationally-acclaimed Information Security Executive® (ISE®) of the Year Program Series and Awards, is North America's largest leadership recognition and networking program for security professionals. T.E.N. delivers ISE® Private Dinners across 42 major cities throughout the U.S. and Canada to create even more opportunities for Information Security Executives, professionals and security solution providers to Connect, Collaborate, and Celebrate.
For more information, visit http://www.ten-inc.com.
Source: T.E.N.
---
Categories: IT Security
Tags: Information Security, ISE Awards, ISE Southeast, T.E.N.
---