T.E.N. Announces 2017 Information Security Executive® (ISE®) Central Awards Nominees
Executive and Project Category Awards Announced at ISE® Central Executive Forum and Awards Gala on May 17, 2017
Press Release
-
updated: Mar 17, 2017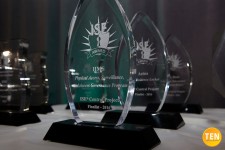 Atlanta, Georgia, March 17, 2017 (Newswire.com) - T.E.N., a technology and information security executive networking and relationship-marketing firm, announced today the nominees for the 2017 Information Security Executive Central Awards. Executives include top-ranking decision makers representing organizations in financial services, commercial, health care, government and academics. Projects include large-scale technology endeavors that address key issues in the information security industry.
Executive Nominees
- Mignona Cote, Sr. Director Global Security and IT Business Compliance Officer of Aetna
​​- Steven Jensen, Executive VP and Chief Information Security Officer of Scottrade
- Mo Katibeh, Senior Vice President, Advanced Solutions, AT&T Business Solutions of AT&T
- Roy Mellinger, Vice President & Chief Information Security Officer of Anthem, Inc.
- Jasper Ossentjuk, SVP & Chief Information Security Officer of TransUnion
Project Nominees
- Aetna, Distributed Controls: Managing Security differently Across 15 Organizations
- AT&T, AT&T Threat Manager with Log Analysis
- Brunswick,  Security Operations – Security Incident Response Management
- Cook County Department of Homeland Security and Emergency Management , Cook County Cyber Threat Intelligence Grid (CCCTIG)
- Enterprise Holdings, The Enterprise Holdings Information Security Prioritization Matrix
- HMS, [A.M.O.S.] Asset Management on Steroids
- HMS, [P.A.M.] Privileged Access Management
- The Ohio State University, The Multi-Factor Authentication Project
- Scottrade, Identity and Access Governance Program
- Scottrade, NIST Cybersecurity Framework Implementation
- TransUnion - Next Generation Vulnerability Management (NGVM)
- US Bank, The Process Alignment and Risk Management Enhancements (PARE) Project
Full project descriptions can be found online: 
​http://www.ten-inc.com/ise/central/project_nominees.asp
"The ISE® Central Awards offer cybersecurity professionals the opportunity to connect with their peers, collaborate with some of the finest minds helming leading security programs, and celebrate the hard earned achievements and progress they have made in the realm of Information Security. The need for security executives has become more critical than ever and it has become vital that these security professionals have a network of peers to interact with, exchange ideas and best practices, and work together to create innovative ways to make our industry even more robust and forward-thinking," said Marci McCarthy, CEO and President of T.E.N. The ISE® Central Awards recognize executives and projects, which have made a positive impact on their organizations through risk management, data-asset protection, regulatory compliance, privacy, and information security. Nominations are sent to T.E.N.'s distinguished panel of ISE® Judges for review and scoring.
This year's ISE® Central Judges include: 
- Robert Allen, CISO and Technology Executive of GE Healthcare
- James Beeson, Chief Information Security Officer of GE Capital
​-​ Curtis Coleman, Vice President and Chief Information Security Officer of Seagate Technology
- Eric Fisch, Senior Vice President, Information Security of Texas Capital Bank
- Dimitra Kane, Enterprise Architecture, Sr, Manager of Discover
- Shelbi Rombout, SVP, Deputy CISO of MasterCard
All nominees will be recognized at the ISE® Central Executive Forum and Awards on May 17, 2017 at The Westin Galleria Dallas in Dallas, TX. Event attendees can earn up to 5 CPEs for participating in the event, which will offer dynamic presentations and engaging roundtable discussions—lead by ISE® Alumni—highlighting a spectrum of the industry's most critical issues and innovative best practices. Finalists and winners are announced at the awards gala that evening and recognized through press coverage and inclusion on the T.E.N. website. 
The event is made possible by kilobyte sponsor: Attivo Networks
About T.E.N. 
T.E.N., a national technology and security executive marketing and networking organization, facilitates peer-to-peer relationships between top executives, industry visionaries and solutions providers in the cybersecurity industry. Nominated for numerous industry awards, T.E.N.'s executive leadership programs enable information exchange, collaboration and decision-making opportunities for Information Security Executives and cybersecurity solution providers alike. Its flagship program, the nationally-acclaimed Information Security Executive® (ISE®) of the Year Program Series and Awards, is North America's largest leadership recognition and networking program for security professionals. T.E.N. delivers ISE® Private Dinners across 42 major cities throughout the U.S. and Canada to create even more opportunities for Information Security Executives, professionals and security solution providers to Connect, Collaborate, and Celebrate.
For more information, visit http://www.ten-inc.com.
Source: www.ten-inc.com
---
Categories: IT Security
Tags: Information Security, ISE Awards, ISE Central, T.E.N.
---