Swiss Rosti Makes Lemonade Out of Potatoes
Press Release
•
updated: Mar 5, 2020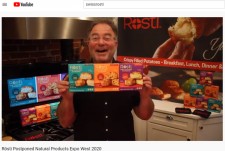 PORTLAND, Ore., March 5, 2020 (Newswire.com) - ​Stephen Caldwell decided to make lemonade from the lemons he was handed this week when he learned his tradeshow was canceled. He made a video to allow retailers to discover Swiss Rosti (swissrosti.com) virtually, which has garnered thousands of views on Facebook, YouTube and LinkedIn since he published it Tuesday night.
"I was lamenting to my neighbor (who happens to be in the video business) that our biggest trade show of the year had been disastrously canceled with only two days' notice this week," says Stephen Caldwell, Founder of a startup food company called Swiss Rosti. "Somehow that conversation turned into let's create a video trade show experience. And within five hours, we made a tradeshow booth in our kitchen and shot a video."
"Natural Products Expo West represents a huge portion of our marketing budget. We were hoping retail buyers from natural and grocery stores would see our innovative product in person in Anaheim, but hopefully, they'll now see it on YouTube instead." Swiss Rosti, like thousands of other businesses, is dealing with major losses related to travel, shipping and lost sales from not being able to showcase their product at Expo West.
Swiss Rosti makes three flavors of its innovative, crispy, filled potato products. They are the Melty Swiss Raclette, filled with imported Swiss Raclette cheese; the Zesty Chili Cheese, filled with Garbanzo Beans, Sharp Cheddar Cheese, Red Peppers, Poblano Peppers and Spices; and the Stuffed Baked Potato, filled with Sour Cream, Cream Cheese, Black Pepper and Chives. Each 75-gram Rosti is 100 calories or less, naturally gluten-free, non-GMO, low cholesterol and vegetarian.
After starting sales in the fall of 2019, the company is enjoying great momentum. Product is available throughout the United States with distribution in the east coast, south and west, with hundreds of retail locations, and has been featured multiple times on QVC. Caldwell believes his impromptu recipe made with potatoes will turn this major business challenge into lemonade.
ABOUT ROSTI
Based in Portland, Oregon, Swiss Rosti is a rapidly growing company focused on marketing good-for-you potato products that satisfy consumers' demand for convenient, great-tasting food products that fit well with today's busy, active lifestyles and with the quality that deserves to be at the finest tables.
Rosti is sold in hundreds of quality retailers throughout the USA and on QVC. Swiss Rosti even received Dave Venable's much sought after "Happy Dance", a distinction reserved for only the most exciting products, appearing on QVC during the holiday 2019 feature series. Rosti has been on QVC multiple times since.
The traditional Swiss Rosti originated in Bern, Switzerland in the early 1800s as peasant food. Caldwell has been perfecting a delicious representation of the crispy filled potato with a more modern sensibility to enjoy for years and launched Swiss Rosti to share with other families everywhere.
Swiss Meets West!
For more information, visit www.swissrosti.com The video can be found at https://www.youtube.com/watch?v=0wayJMrbVNs.
Source: Swiss Rosti