Other Foods Grain-Free Paleo-Friendly Baking Mixes to Debut at Expo West
Press Release
•
updated: Feb 26, 2020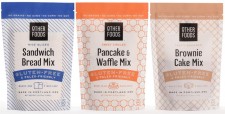 PORTLAND, Ore., February 26, 2020 (Newswire.com) - Phoebe Smith Buls, founder of Other Foods, the Portland-based producer of gluten-free, paleo-friendly baking mixes, will be at Natural Products Expo West March 5-7 at the Anaheim Convention Center, offering tasty samples.
At booth #8315, Other Foods will premiere six products, each one easy to bake at home and free from gluten, grains, soy, corn, dairy, gums, nightshades and refined sugar. Phoebe has worked hard to make baking with alternative ingredients simple and intuitive, and to ensure that the baked goods provide familiar flavor and texture. Start your day with Pancake & Waffle Mix or Banana Bread & Muffin Mix. Move on to Sandwich Bread Mix for a loaf that slices and toasts beautifully. After school or teatime is perfect for baking up some Pumpkin Bread or Muffins. Almond Bread is delicious and only 3g net carbs per serving! Brownie Cake is chocolatey enough for any dessert.
Founder Phoebe Smith Buls grew up a hippie child in the woods in the Pacific Northwest in the seventies, and every Wednesday her mama would put down the hand-dyed yarn and make fresh bread in their wood-fired oven. The warm, fragrant homemade bread was a treasured part of family life, and Phoebe grew to love baking for her own family. After suffering from health issues that forced her to remove gluten and eventually all grains from her diet, Phoebe longed for homemade bread with the flavor and texture of the comfort foods that she loved, but without the grains. This quest put Phoebe on a path of experimentation that led to the creation of Other Foods.
Founded in 2017, Other Foods is a baking mix brand that offers alternative ingredients in easy-to-use blends, satisfying the demand for gluten-free, grain-free, dairy-free and paleo options. Other Foods is a woman-owned business, and our products are certified gluten-free and kosher. Other Foods is in good company in the Portland food scene, where culinary innovations and products are thriving. At Expo West 2020, we are ready to show the world that with Other Foods, there's more to eat.
MEDIA CONTACT: Phoebe Smith Buls, Founder 971.319.4066 eatotherfoods.com
Other Foods
234 NE 28th Avenue Portland, OR 97232 • 971.319.4066
hello@eatotherfoods.com • eatotherfoods.com • Instagram: @other_foods
Source: Other Foods