Sudden Death Checklist by Internationally Recognized Business Consultant Releases First Podcast
Press Release
•
updated: May 13, 2020
Announcing the initial podcast in a series designed to prepare business owners and their professional / family caregivers for the worst-case scenario of an untimely death.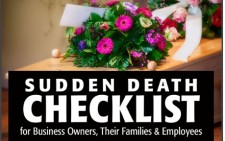 HARTFORD, Conn., May 13, 2020 (Newswire.com) - ​​​​Internationally recognized business consultant, Jack Veale and his "Sudden Death Checklist" launch team announced today the very first Sudden Death Checklist Podcast titled, "Sudden Death Checklist - Intro for Families and Business Owners."
In this first podcast found on YouTube, Jack Veale gives the audience an overview of the reasons behind, the necessity of, and the use of his Sudden Death Checklist.
Jack Veale explains, "Business owners have to take seriously the added pain and confusion that a family and business takes on when the business owner dies and critical issues are not organized and questions concerning the deceased's wishes have not been made clear. By taking the time to work through the Sudden Death Checklist with close advisors and family members, everything can be put in order, lessening the negative impact on a family in their time of loss and grief."
Here is the link to that initial podcast: https://www.youtube.com/watch?v=yfYhqo1vz3s
About the Sudden Death Checklist Workbook:
The workbook is intended to be used by business owners, trustees, and executors in conjunction with their key advisors (such as the family/corporate lawyers and wealth advisors) and their spouses/partners in working through a thoughtful process of gathering all of the information that their family and company managers would need in case of the business owner's sudden death.
This workbook is also designed for the professional and family caregivers of the business owner. As one user of the Sudden Death Checklist said, "If you're still breathing, your family needs this book!"
The workbook includes comprehensive checklists and instructions for an array of topics including:
· The Pre-Funeral Checklist
· The "live" Funeral Checklist
· The Post-Funeral Checklist
· The Pre/Live/Post Funeral Company's Checklist
· The Veteran's Checklist
By using the "Sudden Death Checklist" that the business owner has wisely left behind for them, the surviving family and his company have easy access to all the documents that will be needed to process the estate and transition the business.
About Jack Veale
Jack Veale, CMC, is an internationally recognized consultant, who advises closely held, family-owned companies, including ESOPs, on business succession, ownership strategy and leadership development. Jack uses many tools to assess the organization on culture, leadership, and operating performance. Over the last 25 plus years, Jack has assisted hundreds of companies in many industries and countries, offering solutions covering strategic planning, succession planning, corporate governance, team training, and crisis management.
Jack has authored or co-authored several books, including "Creating Strategic Innovation," "Don't Do That!", and "Sudden Death Checklist".
Contact:
To learn more about the "Sudden Death Checklist", please contact
The "Sudden Death Checklist" Launch Team at:
PTCFO, Inc
48 Walkley Road, West Hartford, CT 06119-1345
Phone: 860.232.9858
Source: Sudden Death Checklist Podcast