Student Loan Debt Significantly Lowers the Ability to Start a Business, Says American Financial Benefits Center
Press Release
-
updated: Nov 26, 2018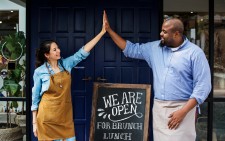 Emeryville, CA, November 26, 2018 (Newswire.com) - Starting a business can be an arduous task for the average person, but for someone carrying student loan debt, it may feel impossible. A borrower with $30,000 in student loans is 11 percent less likely to start a business than someone who was able to graduate debt free, according to Karthik Krishnan, an associate professor of finance at Northeastern University. The average graduate from the class of 2017 walked away with $37,172 in debt — and that extra $7,000 is certain to reduce the chances of entrepreneurship even further. American Financial Benefits Center (AFBC), a document preparation company, believes that entrepreneurship is important for an economy to flourish and shouldn't be held back by student loan debt.
"Starting a business takes time, resources, and money," said Sara Molina, Manager at AFBC. "If someone is working two jobs to pay off debt, they have no time. Their resources are already limited by their debt. And most likely most of their money is going to their debt and the necessities."
Borrowers who are working on paying off their loans may not have the capital to invest in a business and may have a significantly harder time getting a business loan from a financial institution. With half of small businesses failing by their fifth year, many would-be entrepreneurs with debt may be less likely to take on the risk of a new business, as well. Small business owners are the ones hit particularly hard by student loan debt, according to a study by researchers at the Federal Reserve Bank of Philadelphia and Pennsylvania State. While that may make the problem sound less significant, it's actually an important distinction; small businesses are one of the top sources of employment in the United States, not to mention most business start-ups tend to start small. Researchers found that the number of small businesses with one to four employees dropped 14 percent between 2000 and 2010 and warn that this trend of fewer small business startups could have an extensive impact on the economy as a whole.
Student loan borrowers who are interested in starting their own business, but who don't feel they have the ability to do so, may benefit from applying for an income-driven repayment plan (IDR). An IDR takes into account a borrower's family size and discretionary income and can potentially offer significantly lower monthly payments. After 20 to 25 years of qualifying payments, the debt may end in the forgiveness of any remaining federal student debt.
"Small businesses are so important for the local economy," said Molina. "Their impact creates a ripple effect into the national economy. It's essential that people who have the drive to start a business are able to get their dream off the ground. We truly believe IDRs can offer entrepreneurs some much-needed assistance."
About American Financial Benefits Center
American Financial Benefits Center is a document preparation company that helps clients apply for federal student loan repayment plans that fit their personal financial and student loan situation. Through its strict customer service guidelines, the company strives for the highest levels of honesty and integrity.
Each AFBC telephone representative has received the Certified Student Loan Professional certification through the International Association of Professional Debt Arbitrators (IAPDA).
American Financial Benefits Center Newsroom
Contact
To learn more about American Financial Benefits Center, please contact:
American Financial Benefits Center
1900 Powell Street #600
Emeryville, CA 94608
1-800-488-1490
info@afbcenter.com
Source: American Financial Benefits Center
Share:
---
Categories: Financing and Student Loans, Financial News
Tags: entrepreneurs, federal student loans, income-driven repayment, small businesses
---