AFBC: Want to Be Paid to Move? Tulsa, Oklahoma, May Be Looking to Do Just That
Press Release
•
updated: Nov 28, 2018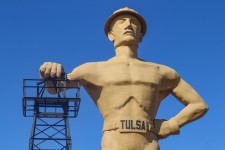 EMERYVILLE, Calif., November 28, 2018 (Newswire.com) - Figuring out where to plant some roots and begin a new chapter in life isn't always easy. There are all sorts of things to consider before moving and no one's going to cover the costs to move. Or will they? American Financial Benefits Center (AFBC), a document preparation service company that has helped many student loan borrowers, says that more and more towns and states are trying out ways to entice people to move to their area and that student loan borrowers may have a golden opportunity ahead of them if they're willing to relocate.
Tulsa, Oklahoma, has recently created Tulsa Remote, which is a special program designed to entice people to move there. Eligible applicants who agree to move to and live in Tulsa for a year while working remotely will receive $10,000 over a period of time; $2,500 will be received in the beginning to cover relocation expenses, $500 a month for a year and then $1,500 once the program is completed. Sounds pretty good, doesn't it? "Student loan borrowers often need all the help they can get. Even if some programs aren't inherently designed to help them, they may find new opportunities to help ease the struggle," said Sara Molina, manager at AFBC.
Student loan borrowers often need all the help they can get. Even if some programs aren't inherently designed to help them, they may find new opportunities to help ease the struggle.

Sara Molina, Manager at AFBC
The point of the program, of course, is not to just have people move in for a year, but to encourage them to move and stay to help with economic and community growth. Job-seeking young professionals, from researchers and writers to tech-savvy opportunity seekers that are 18 or older and willing to work for a company already based out of Tulsa County, making a pledge to move to Tulsa and live there for the year-long requirement might just be a newfound opportunity some may have hoped for. For now, only around a dozen people will be selected to participate, but Ken Levit, an executive director of George Kaiser Family Foundation, says the city hopes to have up 300 workers in the program someday. At that time, they may even open up the restrictions a little to not only have semi-locals able to relocate but some people looking to move into this opportunity.
When student loan repayment is at the forefront of the mind, it can be hard to find opportunities that help with the situation instead of potentially making it an even harder struggle. Borrowers struggling with student loan repayment may be able to find help with the grant systems more places are starting up, but also with federal-level programs. AFBC has helped thousands of struggling student loan borrowers apply for income-driven repayment programs that have potentially lowered their monthly payment and gotten them on track for student loan forgiveness after 20-25 years of being in the program. "We believe student loan repayment shouldn't have to be a struggle. That's why we're so committed to helping our clients better their loan situation and through the yearly recertification process," said Molina.
About American Financial Benefits Center
American Financial Benefits Center is a document preparation company that helps clients apply for federal student loan repayment plans that fit their personal financial and student loan situation. Through its strict customer service guidelines, the company strives for the highest levels of honesty and integrity.
Each AFBC telephone representative has received the Certified Student Loan Professional certification through the International Association of Professional Debt Arbitrators (IAPDA).
American Financial Benefits Center Newsroom
Contact
To learn more about American Financial Benefits Center, please contact:
American Financial Benefits Center
1900 Powell Street #600
​Emeryville, CA 94608
1-800-488-1490
​info@afbcenter.com
Source: American Financial Benefits Center
Related Media
Tags
Additional Links