American Financial Benefits Center: For Many Vet Techs, Helping Animals Costs Financial Security
Press Release
•
updated: Nov 30, 2018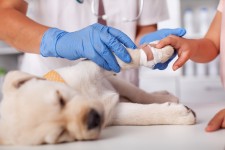 EMERYVILLE, Calif., November 30, 2018 (Newswire.com) - Much is written about veterinarians and their student loan debt. Some consider the student loans that vets take out while earning advanced degrees to be some of the most challenging to pay off. The average student loan debt for 2016 veterinary school graduates was $167,534.89, and more than one-fifth have at least $200,000 in debt. Unfortunately, the mean salary for veterinarians was $88,770 for the same year. Sadly, veterinary technicians are just as underwater. The average pay for a vet tech is $14.26 per hour, well under $30,000 per year. According to College Calculator, it costs an average of $28,070 to earn a veterinary technician certificate, and students borrow an average of $6,642. According to dvm360, many vet techs are feeling overwhelmed by student loan debt. As thousands of American Financial Benefit Company (AFBC) clients know, borrowers overburdened by student loan debt sometimes need help navigating the many repayment programs, such as income-driven repayment plans (IDRs).
"Most people who go into veterinary work love animals, and it's too bad that love and dedication to caring for animals make them susceptible to challenging financial outcomes," said Sara Molina, manager at AFBC. "Our goal is to help clients navigate applying for and maintaining enrollment in IDRs. We can make sure they are staying up to date with recertification and that they are maximizing the benefit available to them, hopefully keeping that payment low and giving them some breathing room."
Most people who go into veterinary work love animals, and it's too bad that love and dedication to caring for animals make them susceptible to challenging financial outcomes.

Sara Molina, Manager at AFBC
To become credentialed, vet techs must attend accredited schools. Previously, vet techs in the U.S. could earn their credentials by working a certain number of supervised hours, but that path has mostly been scrapped. Vet tech schools can cost from $4,000 to $15,000 per year and are available as both two-year and four-year programs. School has become increasingly necessary as non-credentialed vet techs are not allowed to work at veterinary hospitals in many states.
As credentialed vet techs have become the industry standard, it has become harder for aspiring techs to skip college. Regrettably, the student loan debt associated with their credentials has also become unavoidable. An unscientific sampling suggested that vet techs suffer from many of the same poor outcomes associated with all borrowers overloaded by their debt and underfunded by their salaries. Borrowers employed in the field often have to move back home or live with roommates, skip luxuries and hope their older car doesn't break down. Bills are an unrelenting and unwelcome reality for these student loan borrowers.
"We feel good about continuing to help thousands of clients. Going to college shouldn't be a life sentence," said Molina. "We remain focused on making sure our clients understand programs which may be available to them for their benefit and assist them in taking care of their paperwork and making sure all the i's are dotted and the t's are crossed."
About American Financial Benefits Center
American Financial Benefits Center is a document preparation company that helps clients apply for federal student loan repayment plans that fit their personal financial and student loan situation. Through its strict customer service guidelines, the company strives for the highest levels of honesty and integrity.
Each AFBC telephone representative has received the Certified Student Loan Professional certification through the International Association of Professional Debt Arbitrators (IAPDA).
American Financial Benefits Center Newsroom
Contact
To learn more about American Financial Benefits Center, please contact:
American Financial Benefits Center
1900 Powell Street #600
​Emeryville, CA 94608
1-800-488-1490
​info@afbcenter.com
Source: American Financial Benefits Center
Related Media
Additional Links