Stevens Transport Names Two New Vice Presidents to Its Executive Team
Press Release
•
updated: Mar 18, 2020
Robert Solimani and Bennett Aaron to Help Spearhead Vision for the Future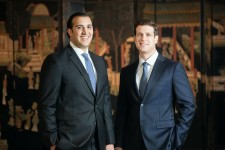 DALLAS, March 18, 2020 (Newswire.com) - Stevens Transport, the largest refrigerated trucking company in Texas and North America's premier multi-modal, temperature-controlled freight carrier, has named Robert Solimani as Vice President and Bennett Aaron as Vice President of its Contractor Division. Both will now serve on the company's Executive Team as third-generation Aarons.
As Vice President of Operations for Stevens Transport, Robert Solimani is responsible for overseeing the company's day-to-day operations as well as managing relations with the top ten shippers, cultivating business development, onboarding new customers, managing regional divisions across the country, and keeping customer service levels second to none. Robert began his career with Stevens Transport in high school as a summer intern. He subsequently joined the company full time in 2012 in a special projects role after graduating from the University of Texas. He advanced to roles managing the shop and maintenance programs, brokerage division, and was promoted to Director of Regional Transport Operations in early 2019. "I'm extremely proud of this accomplishment and look forward to the new challenges ahead," said Solimani. "I could not have done it without a great support staff and operations team."
As Vice President of the Contractor Division, Bennett Aaron is responsible for managing more than 900 contractor drivers and a team of 20 support staff, overseeing business and financial support, driver relations, and operational support. He was promoted to Executive Director of the Lease Division in early 2019, and under his supervision, the Contractor Division experienced the largest net growth in company history, adding more than 150 additional contractor drivers while significantly reducing driver debt. Bennett has implemented new, more efficient processes, created new programs and tools to increase productivity, and has contributed significantly across-the-board to the company's training, safety and operations departments. He began his career with Stevens as a college intern supporting driver recruitment throughout central Texas. Upon graduating from the University of Texas in 2012, he joined the company full time as part of the executive training program. "I've worked in almost every area of the company, but my true passion is taking care of people and finding ways to help our drivers maximize their income and set them up for success," said Bennett Aaron.
According to Vice Chairman of Stevens Transport Todd Aaron, "Robert is a utility player who can step in wherever needed with his vast understanding of the innerworkings of the company and his strong leadership skills. Bennett is very process-orientated and innovative and has brought a new level of excitement and accountability to the company as he implements new programs to enhance the financial well-being of our drivers—our most important asset and the backbone of Stevens Transport." He continues, "Their management philosophy, coupled with their proven track record of both financial and operational success, make both Robert and Bennett valuable assets to our Executive Team as we enter this new decade and look towards the future."
To learn more about Stevens Transport, visit www.stevenstransport.com.
###
About Stevens Transport
Stevens Transport, Inc. is recognized as one of North America's premier multi-modal, temperature-controlled freight carriers. The specialized nature of time-sensitive truckload shipments gives Stevens Transport a unique advantage in the supply chain marketplace as a logistics leader valued by a wide range of Fortune 500 ® customers. With a network of operations throughout North America, Canada, and Mexico, Stevens Transport maintains a competitive edge by providing asset-based services through regional, dedicated, expedited, intermodal, tanker, and 3PL competencies. Beyond capacity-driven operations, Stevens Transport injects an unmatched integrity into a corporate business model that reflects more than 30 years of consistent growth and success. To learn more about Stevens, visit www.stevenstransport.com or find them Facebook at https://www.facebook.com/StevensTransport and Twitter. For additional information contact mollyaaron@stevenstransport.com​​​
Source: Stevens Transport