Steven McEwen's New Book, "Splintered Wood" is an Extraordinary Story About a Group of Friends Who Set Out for an Adventure That Leads Them Into a War.
Recent release "Splintered Wood" from Covenant Books author Steven McEwen is a thrilling book about a group of friends composed of the knight, the twin warriors, the mind mage, the druid, and the abomination who help each other purge the darkness, overcome their personal struggles, and win battles.
Press Release
-
updated: Feb 20, 2018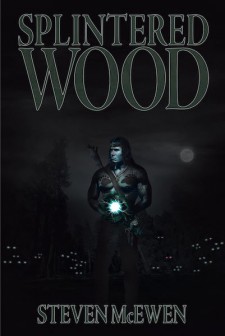 Overland Park, KS, February 20, 2018 (Newswire.com) - Steven McEwen, a writer who studied creative writing at the University of Kansas and believes that fantasy is a fun and more interesting way of telling a story, has completed his new book, "Splintered Wood":  a riveting book about individuals with diverse past experiences and various strengths and endeavors who make a difference in the land of Toljynn when the darkness is approaching.
Steven shares this excerpt from his new book, "Shendra focused on the object. She willed forth her mental power. Feeling that wonderful tingling sensation of the mind magic she had grown to love, Shendra's enchantment manifested itself by allowing her to see the magical aura of the item around her neck.
Her mind's eye saw the white glow surrounding her newest and most precious gift. Shendra knew that when using the magical aura sight, a white glow meant protection of some kind. She smiled as her eyes welled up with tears. The smile quickly vanished as she wrestled with her emotions about her graduation present and how she had received it. She could not help but think that her teacher needed her help somehow, that something was very wrong. She lay on her bed as her mind recounted every detail of the encounter with the headmistress, the argument with the dark-robed woman, and what she was supposed to do next. As she did this, she reached into her pocket, took out the scroll, and began to wonder as she played with its locking clasp."
Published by Covenant Books of Murrells Inlet, South Carolina, Steven McEwen's new book is an engrossing work of fantasy about the adventure of a group of friends that throws them in the middle of a war as Vansheen Hoth, a strong-willed priestess who reveals a new power from the east.
This book provides the fall and end-time of Toljynn as told by the chroniclers who have watched the mortals and these people who were present during that recorded time. Pershus, a chronicler, says that the creator has destined this story to be known because the past shall not be repeated.
Readers can purchase "Splintered Wood" at bookstores everywhere, or online at the Apple iTunes store, Amazon, or Barnes and Noble.
Covenant Books is an international Christian owned and operated publishing house based in Murrells Inlet, South Carolina. Covenant Books specializes in all genres of work which appeal to the Christian market. For additional information or media inquiries, contact Covenant Books at 843-507-8373.
Source: Covenant Books
Share:
---
Categories: Books, Religion, Arts and Entertainment
Tags: "Splintered Wood", Covenant Books, new books, Steven McEwen
---