Stephen Shaya, M.D., and Noor Sweid Discuss the Power of Conscious Capitalism
Press Release
•
Apr 11, 2023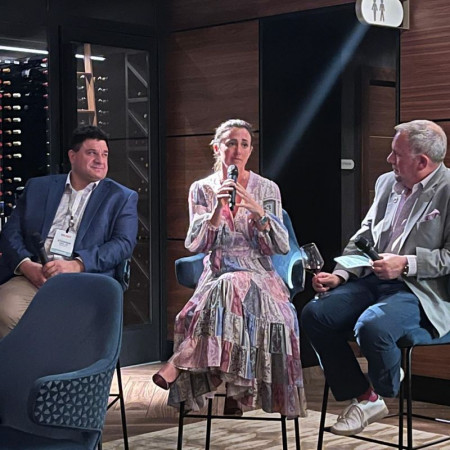 ORLANDO, Fla., April 11, 2023 (Newswire.com) - Stephen Shaya, M.D. Managing Director of Akkad Holdings and Noor Sweid, Managing Partner at Global Ventures, spoke about the power of Conscious Capitalism at the Family Office Dinner on March 7th during the 2023 Lake Nona Impact Forum. Conscious Capitalism is a model of economic development in which businesses focus on creating value for all stakeholders, not just shareholders while being mindful of their impact on society and the environment. They discussed how this form of Capitalism could create long-term sustainable value by considering both financial performance and social responsibility.
Noor discussed how Global Ventures has been aligned with Conscious Capitalism since its inception. She said, "Our investment ethos is centered around the marriage of financial, social, economic, and environmental returns. We back mission-driven founders who are building technology solutions that positively impact the lives of millions. We believe that the most compelling investment opportunities are not only those with attractive financial returns but those that enable uninterrupted access to essential services in ways that are affordable, sustainable, and environmentally conscious."
During their panel conversation, they highlighted how leaders can balance the needs of all stakeholders without sacrificing financial performance, using capital as a tool to uplift underserved populations. It was an insightful conversation about Conscious Capitalism and why it should be championed for long-term sustainability.
Dr. Shaya believes businesses should seek out opportunities to use their resources to benefit society beyond just making money, saying, "Conscious Capitalism is the intersection of Capitalism and business that reflects humanity, the environment, and positive social impact. This holistic approach provides not only financial wealth to stakeholders but also intellectual, ecological, cultural, and social wealth. Conscious Capitalists need to consider their influence on the planet and profits as both equally important." He quoted Jackie Robinson. "A life is not important except in the impact it has on the lives of others."
Both speakers agreed that Conscious Capitalism is the key to success and sustainability for companies in today's dynamic market climate. Their insightful views on the importance of social responsibility prove that businesses can flourish while actively contributing to the betterment of society and the environment to create a brighter future for all.
About Akkad Holdings
Akkad Holdings is the family office of Stephen Shaya, M.D., whose family owns J & B Medical. J & B is a world-class family of businesses that span across all aspects of medical-related care, including the following: insurance-covered products, national managed care contracts, medical-surgical products, retail home-care products, technology solutions and serves as one of the largest third-party billers of consumable medical products in the United States. J&B owns HNC Virtual Care Solutions, which manages a telehealth company serving customers worldwide.
About Global Ventures
Global Ventures is a UAE-based, Series-A focused, emerging-market venture capital firm with $200 million AUM and financial returns rating it as a top decline fund by global Pitchbook ratings. Global Ventures backs global-minded founders that are leading growth-stage companies and using technology to transform emerging markets. More information can be found at https://www.global.vc
Source: Akkad Holdings