Status and Product Analysis of the Caster Market - YTCASTER
Press Release
•
updated: Aug 11, 2019
The Hengshui Yutong Metal company has professionally manufactured caster wheels for 16 years. During this time, they accumulated rich experiences and advanced techniques. With competitive prices and high quality, their products have won admiration and are widely trusted at home and abroad.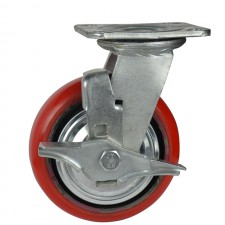 HEBEI, China, August 6, 2019 (Newswire.com) - ​​​Caster Industry Market Status
With the development of global industrial construction, industrial casters are widely used in our daily lives. It can be predicted that with the increasing use of industrial casters in all areas of life, the sales volume of industrial caster wheels will reach new heights. At the same time, the quality requirements for the products in the caster application market have become stricter. In the midst of this promising market, providing high-quality, consistent caster products and strengthening quality in product design, production and manufacturing have become urgent issues for the industry.
As the world's largest producer of casters, China has accumulated a large number of professional caster wheel manufacturers. Among them is Hengshui Yutong Metalwork Co., Ltd, a professional caster supplier that has 16 years of experience in producing casters and advanced technology at competitive prices and with high quality. It has won recognition and praise from the international and domestic markets and is trusted.
Industrial Caster Characteristics Analysis
Industrial casters that are strong and that resist impact are single wheels made of super polyurethane, imported reinforced nylon, and rubber. These casters are widely used in the production of factories and machinery, as well as in items for people's daily lives. An analysis of the characteristics of industrial casters revealed that industrial casters are attractive, have a strong carrying capacity and an accurate rotating track, resist impact and corrosion, and are very practical. The industrial caster bracket is made by a high-pressure punching machine and can accommodate the short-distance transportation of 200 to 500 kilograms of goods. Industrial casters can also be made to accommodate width loads and materials for different use environments.
In terms of materials, industrial casters are divided into five types: Nylon casters, PU casters, rubber casters, iron casters, and PP casters. These are widely used in logistics, AGV, medical fields, etc. YTCASTER uses PU, rubber, nylon, and polymer materials such as TPU, TPE, TPR, etc.
Industrial Caster Selection
In general, YTCASTER chooses and purchases industrial casters based on four characteristics: load capacity, application type, frequency of use, and use environment. It looks mainly at wheels, casters, and bearings. Many factors determine the choice of industrial casters (e.g., industrial casters with brakes). The key is to choose the industrial casters that are right for you.
Here are some of the most important considerations:
(1) The load-carrying capacity not only determines the weight of the load and the size of the wheel but also affects the rotation of the industrial casters. Ball bearings are suitable for heavy-duty caster wheels above 180 kg.
(2) Use the field conditions to select a wheel that is large enough to accommodate the crack in the field. Factors such as road size and barriers should also be considered.
(3) Different wheels adapt to different working environments, and the best wheels adapt to special environments. For example, conventional rubber is not acid-resistant to oils and chemicals. If you want to adapt to special circumstances, Daxing's high-tech urethane rubber, plastic, modified Bakelite rubber and steel wheels are all good choices.
(4) The greater the flexibility of rotation, the more energy is saved. Ball bearings can withstand heavier loads. They are also lighter and more flexible.
Innovative Products, Enhancing Brand Charm – Sales Model Of Products + Services
As industrial casters are used more often in various social sectors, the competition among industrial caster companies is becoming fiercer. To stand out among the many manufacturers, a company must have excellent products, excellent service and distinctive sales models. Today, innovative products have become a new point of profit growth, and innovation in both technology and product differentiation has become the winning way for enterprises to stand out. As the main force in the caster industry, YTCASTER is committed to creating the purest caster products with the perfect combination of aesthetics, performance, environmental protection, and innovation to give users the ultimate new caster experience.
At the same time, there is an interaction between the quality and cost of any product, and casters are no exception. First, the cost of wastage and maintenance in the production process increases the cost of the product. Second, the quality of inferior products is poor, which increases the cost of maintenance services after those products are sold. Therefore, improving quality is a way to reduce costs.
As a professional manufacturer and exporter of casters, YTCASTER always adheres to the quality first management policy. To improve product quality, the company actively introduces foreign advanced technology and equipment, optimizes management and service, and strives to build a first-class brand in the industry to provide customers with better products.
Why Choose YTCASTER ​?
In terms of its sales model, YTCASTER starts with the customer. It provides one-stop service to customers at home and abroad, optimizes and shortens the delivery cycle, combines excellent product quality and service, improves the customer experience, and provides high-quality products at low prices. Consider the following:
1. YTCASTER provides customers with free samples for testing, which reduces the customer wait time.
2. YTCASTER has nearly 20 years of rich production experience, and 80% of skilled workers focus on management and testing to ensure high-quality products.
3. Various machines are available in the production base exhibition hall, and the delivery time can be three to four days ahead of the average delivery time of the same industry.
4. YTCASTER provides OEM and ODM services to serve customers worldwide.
About YTCASTER ​
Hengshui Yutong Metalwork Co., Ltd. is an industrial caster manufacturer with 16 years of professional experience in China. Facing the high demands of the market, YTCASTER has actively adjusted its product structure, strengthened the quality concept in product design, production, and manufacturing, and adhered to a "quality first" business policy. With competitive prices and high quality, our products have won high praise and are widely trusted at home and abroad.
If you want to buy a caster, please contact YTCASTER. We will do our best to provide you with high-quality and competitively priced products. You can contact us by email, phone, or fax. Our customer service department is proficient in English and will be happy to help you.
Contact Info:
Contact Person: Xuhuan Zhao
Email: sales@ytcaster.com
Tel:+86-318-5178688
Website https://www.ytcaster.com
Source: YTCASTER
Related Media
Tags
Related Files
Additional Links