Spreading Healthy Options to the East Coast
Press Release
•
Sep 26, 2016
East Coast consumers now benefit from the availability of a healthier sugar too.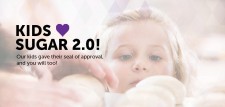 Los Angeles, CA, September 26, 2016 (Newswire.com) - ​​​​​​​​​​​​​​​​​Following a series of successful launches in California, Foods 2.0, LLC., creator of Sugar 2.0, the first functional sugar on the market, announced its expansion to the east coast with its launch in Balducci's Food Lover's Markets and Kings Food Markets. Sugar 2.0 provides a much-needed replacement to sugar for health-conscious consumers and concerned parents.
With the rise of type 2 diabetes and other diet-related diseases, a healthier diet is something about which Americans have become more concerned. Add to that the prevalence of obesity, even in children, and there is real cause for alarm. Therefore, parents especially have been trying to find ways to provide healthy and nutritious foods that children enjoy eating.
The demand that we've gotten from our east coast customers this year has been tremendous. We're beyond thrilled to see Sugar 2.0 in store shelves on both coasts so quickly after launching.

Trong Nguyen, CEO and Founder
"Consumers today are making their health a priority," says Foods 2.0 founder Trong Nguyen. "As more people ask for Sugar 2.0, it will drive prices of ingredients down and make Sugar 2.0 even more affordable and accessible to everyone."
Totaling 31 stores, the East Coast expansion marks Sugar 2.0's first retail locations in New York, New Jersey, Connecticut, Maryland and Virginia. This extends its reach to approximately 20 million people in the Tri-State and North Jersey areas, thereby bringing Foods 2.0 closer to its goal to help reduce obesity and other diet-related diseases. "Prevention is the best cure" is the motto that drives the company to innovate and expand for the benefit of improving Americans' health.
Soluble fiber plays an important role in a healthy diet, as it is a type of carbohydrate that the body can't break down; it helps control blood sugar levels. High-fiber foods tend to be more filling than low-fiber foods, so including them in the diet ensures that the same amount of food satisfies for longer; hence Sugar 2.0 includes soluble fiber.
"The demand that we've gotten from our east coast customers this year has been tremendous," said Nguyen. "We're beyond thrilled to see Sugar 2.0 in store shelves on both coasts so quickly after launching."
Recently named a finalist in the SupplySide CPG Editor's 2016 Choice Awards for product innovation and market impact, Sugar 2.0 has quickly gained recognition as a healthier sugar alternative. By blending real cane sugar with soluble fiber and a commitment to natural and sustainable ingredients, Sugar 2.0 hopes to positively change the way people think about sugar.
Additional stores will enable Sugar 2.0 to keeping its pricing competitive, keeping in line with Foods 2.0's core mission to create functional food products that are available to everyone. The east coast launch aligns with Foods 2.0's aggressive growth strategy, which includes spreading its functional foods to all major regions across the U.S. by the end of 2017.
About Foods 2.0, LLC.
Founded in 2015 and based in Southern California, Foods 2.0 is a developer of functional food products. Striving to create "clean label" foods, Foods 2.0 uses just a few main non-gmo ingredients – no byproducts or fillers – with a mission to reduce or eliminate added sugar. The results are products that are straightforward, yet innovative, healthy and delicious. Its products, Sugar 2.0 and Sugar 2.0 + Probiotics are currently available in 800 stores across the U.S. Find Sugar 2.0 products online, and in stores in the baking aisle. For more information, please visit: http://www.sugar2pt0.com/.
Media Director (for inquiries or to request samples)
Cindy Thai
cindy.thai@foods2pt0.com
About Balducci's Food Lover's Market
What started as a produce stand run by "Pop" Balducci has now become a gourmet powerhouse, with 6 stores located in Maryland, Virginia, New York and Connecticut. It's a market where taste comes first, above all else. A place where the produce is hand-selected, where meats are prime cuts, and fish are flown in fresh from the wharves. http://www.balduccis.com/home.
About Kings Market
In 1936, the founders of Kings began with the humble purpose of finding the freshest produce around. They quickly found the best local farmers and established relationships that would endure and expand over the years. Today, our passion for food has grown along with our business. We currently have over 25 stores locally focused on the communities they serve. http://kingsfoodmarkets.com/.
Source: Foods 2.0, LLC.